Hong Kong Travel Kit
Journey Planner of Your
Hong Kong Vacations
Hong Kong travel kit is for you that travel to this city with or without a child(ren). The goal of this page is to make your Hong Kong vacations easier.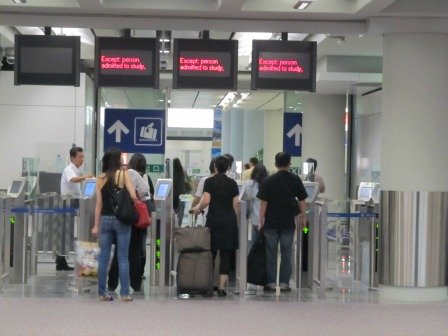 This list is based on our lessons learned throughout our trips before and after having our child. You don't have to follow the complete list of this journey planner. But it is highly recommended because of our lessons learned.  All the items listed here helped us. I hope it will help you and your family, too.

The list is divided into 2 parts. The first part is purely for adults traveling without a child going along.

The second part is purely what you are going to pack for your child(ren) if you plan to travel with him/her or them.  Click here to check out the Hong Kong Kids Travel Kit.

I will share with you my experiences in details for each item. So that you can consider if you could be in one of the situations. From there, you can decide if you need that particular item on this Hong Kong travel kit.

Please feel free to adjust their priority or your needs on this list. You can also download the Hong Kong travel kit check list by clicking here.
(You need to have the Adobe Reader to open the file.  This software is free.  Click here to download it now.)
Backpack or Laptop backpack
---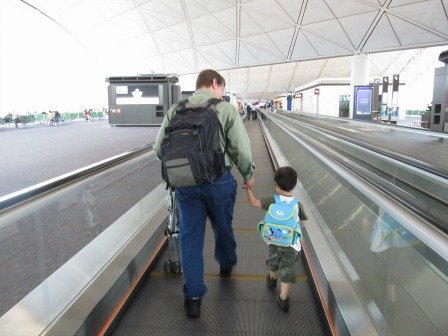 Backpack, not shoulder bag or any other form of bags. Yes, backpack. I cannot emphasize enough how important it is, especially if you have a child(ren).

After so many domestic and international trips with my 5-year-old since he was 10-month old, having a backpack definitely makes life much easier.

Why would I say that? Every time when we travel by plane, we always get delayed or cancelled flights. We may either need to run from one terminal to another in the airport or we need to help ourselves to get settled in the airport for several hours.

Without a backpack, we would not have anything within reach, such as DVD player, laptop and so forth.

That's right. You may even need to pack everything in the backpack listed above. Or you may need to pack most of them depending on your trip.

Last time when we travel to the Hong Kong GeoNational Park(coming soon - link to HK GeoNational Park page), I was so grateful that I had the backpack with us. My son got sick and he needed to change his whole outfit from head to toe. Thank goodness!
The new change of clothes and wipes were all in my backpack.

Even if you don't have child(ren), you may still need a backpack traveling in Hong Kong. There are many Hong Kong people, especially males, they take along their backpacks for the domestic trips. Even going to work, they take a backpack. There must be a reason, right?

This may shed some light by sharing our experiences going to Ocean Park and Disneyland. Although that was in October, it was still very hot. Bringing water with you is highly recommended. (A side note, Hong Kong Disneyland could confiscate your water). Believe me, in the hot Hong Kong summer, you definitely need to be well prepared before getting dehydrated.

Besides, going in and out of the air-conditioned area during summer time, Hong Kong people bring a thin jacket along not to mention if you travel from overseas.

Last time when we visited the Ocean Park, we stepped into the South Pole Spectacular to see the penguins. That area has a special setting, especially the temperature which allows the penguins to live like in their habitat.

Walking in from the hot sun, the temperature difference was 30C (or at least 65F) colder. If I hadn't brought along my backpack where it had a cardigan for my little one, we would be in big trouble in no time. And the whole trip could be ruined.

Buying a backpack can take time.  Last time, I tried to look for a functional, stylish and reasonably priced backpack took me over 3 hours visiting several stores.

After that experience, I happened to find this online store, Zalora. They specialize serving locally by limiting shipments to a few southeast Asian countries.

For instance, if you purchase from their Hong Kong branch and deliver to an address in Hong Kong is free as long as your purchase is over HKD150, a very reasonable minimum purchase amount. You can easily spend this money in the Hong Kong wet market without any guarantee of the quality.

They have some very well-known brands with a super great price.

While you may find some of your other favorite brands in their other branches, Zalora only ships within the country where the branch operates.

One of the advantages of buying from Zalora Hong Kong, they have a 15-day return policy. This is very rare, but AWESOME. Because there is nowhere you can buy from in Hong Kong that would have a return policy, not to mention 15 days.

They also have laptop backpacks. At the time of writing this page, there are not many choices. Hopefully, they will be adding more varieties to choose from.
Expandable Luggage and Luggage Locks
---
People love to shop in Hong Kong because almost everything is within reach. Things that you may not find in the other part of the world, you can buy them here.

Every time when I go back to Hong Kong, no matter how well prepared I was, I ended up buying too much. Lucky me, I can always borrow a luggage from my mum. But not everyone has this luxury or privilege like I do.

Here is the trick. Try it if you can. Say, you travel with someone else. In other words, 2 people travel together.

Normally, airline will accept 2 luggage for each person with no charge, except they are overweight.

Have 2 big expandable luggage and 2 smaller expandable luggage (make sure that each small one can fit into the bigger one.)

Loosely pack what you need in a small luggage when you go for the Hong Kong vacation. Put each small luggage into the big one. So, you will need to check in 2 luggage (1 per person) with the airline on the way over.

On the way back, you will have plenty of room and go crazy for the Hong Kong shopping trip.

Just to make sure that the expandable size is acceptable for the airlines.

Luggage lock is another must for you. Due to the terrorism, it is very common to have your luggage opened by the customs at any time and at any airport.

Buying the ones that are TSA approved would allow you to lock the luggage. But at the same time, the staff at the customs will have the special keys to unlock the luggage.










How to Pack Your Luggage?

---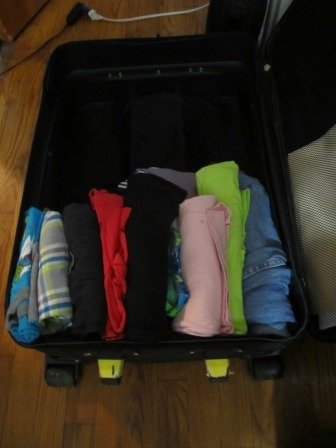 Even you have a couple expandable luggage, you still have tons to pack back home.
It is no surprise to me at all.  Actually, it happened to me many, many times, especially if you went crazy on Hong Kong fashion shopping.  Well, what did I do?
Here is the tip from one of my younger sisters:  ROLL UP YOUR CLOTHES.  If you look at the picture above, you will have some ideas how to pack the luggage.  You will be amazed how much space you get just by rolling your clothes instead of folding and stacking them flat.
Give it a try next time.

Waist Bag (aka Travel Pouch or Waist Pack)
---
It may sound crazy to get one more bag with you, right? You are taking the backpack already. Isn't that enough?

Ok, let me tell you this. At the airline counter or the customs, you are digging your passport and/or boarding pass. You dig and dig and dig. Finally, after several minutes passed, you got them. Does this sound familiar to you?

That's why you need a waist bag. I know. They don't look very fashionable. But when you are done presenting your travel documents, you just need to put the waist bag into your backpack.

When you arrive at your final destination, you put it around your waist and good to go again.

Ladies, if you happen to just have the backpack with you without your handbag or pocketbook, the waist bag is the perfect place for your wallet with credit cards and cash.
Hong Kong Travel Kit - Comfortable Shoes
---
When you travel in Hong Kong, expect that you walk literally at least 4-6 hours a day, except you are planning on taking the taxi. If taxi is your route to go, unfortunately, you will need to bump up your traveling budget.

Besides, your time will be at the mercy of the Hong Kong crazy traffic. In my opinion, this is definitely not the best choice ever.

I highly recommend you to bring one pair of shoes with you which would be the pair that you wear throughout the trip, but no more than 2 pairs.

The chances for you to buy another pair of shoes in Hong Kong are very high. So, it doesn't make sense to bring too many along and occupy the precious space of your luggage.

4-6 hours a day may sound a lot. But I can tell you this. While you are walking, you don't feel that way. The best of all, this exercise you put in helps you to lose weight. If you eat a lot in Hong Kong, like me, you don't feel guilty.
SD cards and batteries for camera
---
I understand that you may always rely on your smart phone to take pics no matter where you go.

But going to Ocean Park and Hong Kong Disneyland, it may throw you off the course. I didn't exaggerate it.

Last time when we were in Disneyland Hong Kong with the whole family, there were totally 5 cameras, 1 tablet and 6 smart phones combined in the whole family. It was just a one-day trip.

Before the trip was over, all the devices that could take pics were either out of battery or memory, except my camera which uses disposable batteries and 16 GB SD card.

If your camera uses rechargeable batteries, either bring a few more batteries or some instant chargers (link to instant chargers).

For the SD card, I highly recommend to bring 2-3 8GB with you. You may not use up the memories of all of them. But just in case one of them is dead, you have a backup.








Passport size external hard drive
---
If you are going to take your computer along with you, I highly recommend you to bring along an external hard drive.

What does it do? Backup your pictures into the external hard drive as often as you can. This is for your benefit that you won't lose all the great memories that you capture during your Hong Kong vacation.

As you may have experienced before that technology is not very trust-worthy. Once it is crashed, nothing can be done.



Smart Phone Instant Charger
---
This is one of the must-have travel gadgets, in my opinion.

Even though you are not going to use your cell service in the foreign country because your service provider could charge you a lot for the roaming service.

Many of my friends and relatives use their smart phones for taking pics. If you are one of them, the instant charger is a must-have for you.

But if you travel to somewhere that you may possibly stranded in the airport for several hours (which happened to us many times), consider to bring one along with you.

Even not needing your cell phone for roaming service, you may need it in your local airport.

I highly recommend you to use the one operated by disposable batteries.  It is much more reliable.






Smart phone and airline(s) and/or traveling apps or GPS with local maps loaded
---
Assume that you have a smart phone with you. But it depends where you came from. If your service provider is in US, you may need to go through some trouble to switch it over in order to get global connection. On top of that, it is very expensive for roaming.

However, if you plan on using your phone overseas, download some traveling apps ahead of time, like taxi app, airline app, maps and so forth. Remember that Yahoo dominates the Hong Kong search engine market. Google doesn't work as effectively as
Yahoo in this city.

If smart phone or tablet is not an option for you, consider a GPS.



Hong Kong Travel Kit - AC/DC converter
---
You may wonder why I put this item almost at the bottom of the list. First of all, the electricity in Hong Kong is 220av. We always bring 1 or 2 converters with us. They are very light and relatively small in size.

If you forget it, you can find it from some Hong Kong mom and pop stores selling electric appliances. They are very cheap, too.

Last time when we went back to Hong Kong, we totally forgot about this. Lucky us, we called the customer service desk of our hotel. (We stayed in the City Garden Hotel Hong Kong). They brought us a converter and let us to use it without any extra charge.

The funny thing was that the converter they let us use was humongous. I am not complaining. But it was funny just thinking back. It wasn't small and light enough to move it around either. Therefore, if you have one with you, it is much more convenient.







Travel toiletries kit and First aid kit
---
It could be a lot of different items to make up these 2 items even they are all travel size. But they could come in handy.
My personal preference is to always include a small bottle hand sanitizer and tissue paper.

Summary - Hong Kong Travel Kit

---
Again, this is the list we put together based on our experiences. There is a separate list for kids. Click here to check out the Hong Kong Kids Travel Kit. You don't have to follow everything listed here.
Different people have different plans on their Hong Kong vacation. Besides, you may have more people going together with you. Then, you can split up the list among the others. That really takes a lot of burden off the shoulder.
To download the Hong Kong journey planner check list, please click here.
(You need to have the Adobe Reader to open the file.  This software is free.  Click here to download it now.)
Return from Hong Kong Travel Kit page to Facts About Hong Kong Homepage