Ocean Park Hong Kong
The Best Theme Park
In the World

No kidding.  Ocean Park Hong Kong was elected as the BEST theme park in the world in Nov 2012.  One of the things that I am so proud of and very happy for.  Seeing it almost closed down for good in the 1990s and came back so strong....

Update
This page will eventually separated in the following 3 categories for your convenience:
1) Attractions
2) Food (NEW)
3) Planner (NEW)
Stay tuned.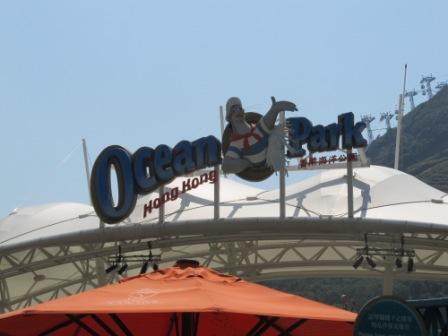 Ocean Park...Then

---
Yep, Disneyland HK and Ocean Park compete with each other continuously.
In my opinion, the tourists and visitors benefit the most out of their keen competitions.

When I was little, we went on a field trip, from school, to Hong Kong Ocean Park. There were only some animals, aquarium, cable cars, performance of the dolphins, whales and the sea lions. It was a lot of fun already.
When I was in my early teens, Ocean Park added rides such as, a roller coaster and the Water World which made this theme park even more popular....Man, I remember my whole family spending a full day over there, it was so awesome.
What made it so different is the setup over there. Like the roller coaster was built on hill side. You can see the Ocean very well. It made you feel like you were going to be thrown out of the car and into the sea.
However after a while, people got tired of the same things over and over again. (Hong Kong people get bored with one thing like a snap.) Ocean Park almost closed for business. It pretty much relied on the visitors from mainland China.
Thanks to Disneyland Hong Kong, Ocean Park management decided to renovate the park. They added more fun stuff and customized different theme activities for festivals.
Ocean Park...Now

---
I was so surprised during our latest visit in Oct 2012 that the roller coaster mentioned earlier and the other attractions are still there and functioning well. I always thought that they have been long gone.

Even the cable cars, the surrounding areas along the trip of the cable cars, it didn't change much. 
In my opinion, you MUST have at least one trip with the cable car in the Ocean Park Hong Kong.  You will enjoy a great view of the ocean. There is one thing that you will never miss which is a Sea Horse, made of shrubs, planted on the hillside. I still remember a story from my childhood. It was believed that the sea horse came to life at night and killed people.
Halloween Celebration

---
My youngest sister whom is in her early 20s just went there during Halloween in 2010. She had a blast.
For a person like me, having the chicken guts, I will never visit the "haunted houses" at Ocean Park Hong Kong. I will never sleep for several weeks, maybe months.
The Halloween "Haunted Houses" opening hours are 5:30pm - midnight daily from the end of September until the end of Halloween. There were 7 of them in 2010. Each has its own theme. A couple of them are based on Chinese and Southeast Asian famous horror stories. Tickets can be purchased now. (Yes, I mean now. You can go online and buy them.)
According to history, tickets on the day of Halloween will be sold out very quickly. If you missed it the last few years, think about planning it earlier this time.
If you love horror, it may be a place for you to check out every year. Because Ocean Park Hong Kong has different "haunted houses" and themes every year.
Our last visit in Ocean Park Hong Kong was very close to Halloween. If I didn't see it myself, I would never believe it. People were crazy and enthusiastic about this event in the park.
We left a little bit after 7pm, the crowd was as big as the one during the day.
For more information about the Halloween Celebration in Hong Kong, click here.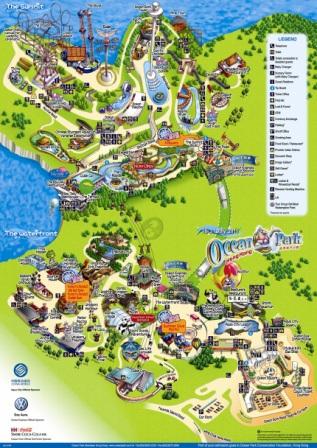 The (Not A Typical) Man-made Rainforest

---
Ocean Park Hong Kong opened another brand new area in 2011 called, the "Rainforest". They have spent over HKD5,500 million (USD705 million) in the construction and preparation.
There is the "Rapid" where you can sit in the ship following the turbulent current and get a sudden water gun attack. At the same time, you can enjoy yourself and pretend your traveling in the Amazon tropical rain forest.
It is the first theme park in Southeast Asia that is educational, environmental conservation with the tropical forest theme and having the mobile game's multiplex.
You can visit 70 different kinds of animals inhabited in the Amazon right here in the "Discovery Trail" which took a year for preparation and research. Many of them are very rare in the world, such as
- Pygmy Marmoset, the world's smallest monkey,
- Hercules Beetle, the world's strongest animal capable of lifting 850 times its own body weight
- Capybara, the world's largest rodent
- Arapaima, the world's largest freshwater fish from South America
- The world's largest and smallest Toucans and many more.
To look at some of these animals, you need to step into a big cage, Expedition Trail. Before stepping in, I was a little bit worried because you get very close to see the animals. I'm not an animal person. Even though there are trees around and some are behind the glass, I couldn't help myself at all.
I wish we had the chance to check out the "Rapid".  Through that, you can see some exotic animals real close.  But with our little one, his height was still below their minimum standard.  Maybe, we can give it a try next time.

Visiting the Marine Animals

---
Going to Ocean Park, of course, you MUST see these marine animals.  It is Ocean Park, right?
They have family camping programs, which are relatively new, like "Nightime in the Ocean's Depth". For children interested in animals daily lives, this will give them the opportunity to get inside the facilities and check out how the sea animals are taken care of on a daily basis.
During our visit, we did see 2 adults touching the sea lions while the trainers were next to them teaching them how to touch and communicate with the animals.
We also saw them again while we were at lunch. They were standing in front of a herd of penguins. It was pretty cool to see the animals lining up to wait for their food.

The "Old Hong Kong"

---
In 2012, a brand new section was opened called the "Old Hong Kong" to celebrate Ocean Park Hong Kong 35th anniversary.
Although it said that it brought back the culture of this city in the 1950s-70s, some of it still existed up till 2000s.
There are rickshaws that you might able to take a ride in front of the Star Ferry Pier in Central and Tsim Sha Tsui until the late 1990s.
In the late 1980s to 1990s, some universities students tried to make some extra cash by running the rickshaws for the tourists charging HKD100. Each trip lasted about 10 minutes. By late 1990s, you could barely see any rickshaw anymore, not even parking in front of the piers. I am so glad that Ocean Park Hong Kong shows case this.
There are phone booths and mail drops in red in the "Old Hong Kong" that they existed during the British Colonial era . Of course, the cast iron phone booths faded out for a few decades before the end of the British era. But you may still find one inside the Hong Kong Western Market. Mail drops changed to green and purple since the Handover in 1997.
There is also the old Star Ferry Pier....men....I missed it. It was torn down in 2005. The area where it was located became part of the reclaimed land which made the distance between Hong Kong Island and the Kowloon Peninsula way too close, in my opinion.
Then, there are the old theatres which brought back many childhood memories. Occasionally, there are a few of them remained to be theatres with new renovation. But most of them had be torn down for urban redevelopment.
Some of the scenes in the street in "Old Hong Kong" can only be seen in some HK TV series. I am so happy that Ocean Park Hong Kong set up this section where people can travel back to history.
As a foodie, how could I miss the food? That was a major part of the old culture. A lot of this Hong Kong street food (link to Hong Kong Street Food page - coming soon) no longer exists.
The best of all is that you can buy souveniors back home. There is packaged food which is packed just the way as it was in the past. As a parent, without pictures like this then, I can still use these souveniors to pass along my childhood and grandparents' stories to my son.
Lesson to learn though....We were hoping to stay in this section a little bit longer. But then, we were in a hurry to go to see the laser shower in the fountain. We didn't realize that once we got out, we could not get back in unless we bought the tickets for the Halloween.
Traveling Tips To Share With You

---
Right now, Ocean Park Hong Kong has become even more popular than Hong Kong Disney.
If you plan on visiting Hong Kong Ocean Park, save a full day for it. Just by looking at the theme park map on top of this page, you will see why.
Besides, with such a big piece of property of this theme park, I can see more expansion and additions in the future.  Who knows?  Maybe, it will become another "Disney World" like in the US that people need to stay overnight for the visit.

Age matters. All the activities of close contacts with the animals, such as feeding and swimming, are only for children age 11 or above.
To find out more about the schedule and tickets for Ocean Park HK.
(Be patient. Even if you have broadband internet, it takes a while to load their website.)
EXPECT more update.
Check out our Facebook page for more pictures.
Return from Ocean Park Hong Kong to Facts About Hong Kong Homepage