A City That Has Never Had Snow
Throughout History That's
Hong Kong Weather
If you like warm weather, you will love Hong Kong weather.

It never snows or drops down to 0'C (32'F) (that what Perry always brags about). But it can reach as high as 36'-38'C (96'-100'F) in the summer time.

Owing to Hong Kong weather, you can do different kinds of outdoor and/or indoor activities in Hong Kong with almost no limitations.




Also because of that reason, I recommend that no matter how long you are going to stay for a Hong Kong vacation, do not bring more than a week of clothing.
Of course, in fall and winter, you must bring a couple summer clothes and a thick jacket to keep you warm.
You may say, "Wait a minute, why summer clothes?" It is because the temperature could varies that it could be very warm.
"Why only a week of clothing?" If you are not in business trip or travel in a tight schedule, you will definitely pass by some boutiques, store and/or malls for your Hong Kong fashion shopping. You are better off to save some space for your new clothes.
If you need to do laundry, there is no laundromat in Hong Kong. There are many dry clean services within 15-20 minutes of walk from most of the hotels. Many of them do laundry service and charge by 5-10 pounds per unit.
In my opinion, there are no obvious differences between the 4 seasons. The Hong Kong weather is pretty much just summer and winter. To people coming from the north, winter is even warmer than their spring.
If I have to divide the Hong Kong weather into 4 seasons, it would be like this:
Spring
March - May
Summer
Jun - Mid-Sep
Autumn
Mid-Sep - Mid Dec
Winter
Mid-Dec - Feb
We recommend that you participate in these different activities based on the above.
Spring and Summer - Shopping , visiting Ocean Park because certain attractions are closed during the winter time, going to museums, going to movies (where A/C is available) and so forth.
Although typhoons hit every year, it does not always get so serious as to interrupt most daily activities in the city. Once in a while, a level No.8 typhoon signal is hosted, which allows people to get an extra-paid or school holiday. But many HK restaurants are still open.
Let me share with you a funny story of what it is like when there is a typhoon. It happened in about 1992 during my summer vacation with my grandparents. I was still in high school.
My grandma always had company in her house every day for playing "Mah-jong". I mean every day. It is a game known and played by almost every Chinese in the world, except myself. Almost every Chinese family has a set of Mah-jong tiles.
One day, the typhoon signal was up. It was foretasted that the typhoon signal no.8 would be hosted. So, nobody wanted to come to grandma's house. She was a super active person even when she was in her late 60s. She suggested to go to the movies which was just a couple blocks away from her apartment. At first, I hesitated. Finally, I gave in.
The cinema was about 15 minutes away. So, we just walked over. On the way, it was just rainy. The streets were still crowded with people and traffic. We had fun watching that Jackie Chan's movie until we got out of the cinema.
Men, oh men..... The wind was so strong that there was no way for us to hold the umbrellas right. It was like a ghost town. We literally walked back to her house without an umbrella. We were soaking wet. Although my grandma is long gone, I still talk about this experience nowadays with some of my friends and brag about how "brave" we were. (With a BIG smile)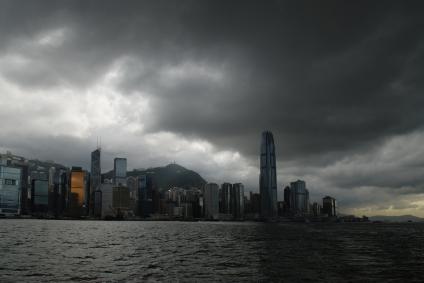 Hong Kong Skyline before a typhoon
(Well, let's get back to the topic.)
Fall and Winter - shoe shopping, dining, BBQ or watching live horse racing.
If you happen to go to Hong Kong during the winter time, bring sweaters. Make sure you also bring a couple of summer outfits because sometimes temperatures can go high enough that even a thin long-sleeved outfit can still be too heavy. Plus, a heavy jacket when the temperature drops lower than normal.
Due to the Hong Kong weather, most people don't use heat. If you stay in a hotel, you can turn on the heat. But after a while, you will most likely feel that it is too much.
If your Hong Kong vacation happens to be in Mar, April, Sept or Oct., I highly recommend you to take a flu shots, especially kids.
Those months are the flu peak seasons. It happened to a lot of my friends and family in the past. As soon as they landed, they got sick. It happened to me once. I was lucky enough to get sick not until the end of the trip.
Although there are many good doctors in Hong Kong charging super reasonable fee, getting sick in the trip is the last thing you want to happen.
Hong Kong weather forecasts are only done by the Hong Kong Observatory (coming soon link to Hong Kong Observatory page).
Since Hong Kong is such a small city. The temperature does not vary too much from one part of Hong Kong to the other. It may be a few degree Celsius (about 2.22' Fahrenheit) difference, rarely more than 5'C (or 11'F).
For immediate weather check, call (852) 2872-000. Learn more about Hong Kong Observatory.
Return from Hong Kong Weather page to Facts About Hong Kong Homepage