Hong Kong Facts for Kids
Gives You Ideas of What
This City Offers for Your Kids
What's in Hong Kong facts for kids? As a parent, I totally understand your concern. I was raised and lived in Hong Kong for 29 years. I even taught for 10 years by giving remedial classes, piano and electronic organ lessons. My students ranged from 5 to over 50 years old. So, I can tell you the facts about Hong Kong for kids in 2 different areas: entertainment and living in Hong Kong.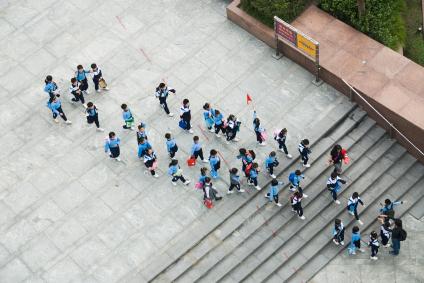 A typical school trip you can see anywhere of these Hong Kong school students
Tour
---
Packing the luggage is one of the challenges when it comes to traveling.  Packing for your little one(s) is even more difficult.  After all these years of domestic and international travel with my only son, we learned a lot of lessons.  I put together a travel kit check list (a.k.s. trip planner) for parents which could help you to get this off your to-do list sooner than you think.

Hong Kong tour for kids are customized for parents and children from age 3-8 to plan the trip ahead of time.  This will ensure everybody is happy and gets something out of the vacation that has been waited for so long.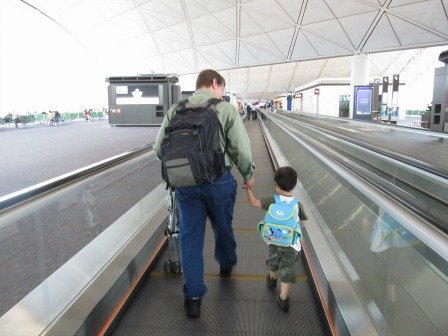 I was so worried how our trip going back to Hong Kong would be like with my little one. It turned out one of the most memorable vacations and family visits we ever had.
Hong Kong Facts for Kids - Entertainment
---
Thinking of a vacation in Hong Kong, want to see if there's something just for your kids? Such as Ocean Park and Disneyland.
If they love movies, they have kids movies from all over the world.
What about some live shows for the kids?  There are tons of world renowned performers coming to Hong Kong.  We took our 3-year-old to a live dance show in Oct 2012.
Many museums are very kid-friendly as well.

Hong Kong Facts for Kids - Shopping
---
When it comes to shopping for kids, you will be amazed at how many toys and accessories are available with your child's favorite cartoon characters, such as chopsticks, silverware, watches, clothes, shoes, hair accessories and so forth. You can either pay a lot or shop and find super deals.
Do your kids love to read? There are tons and tons of children books in Hong Kong available in Chinese, English, and many other languages if you want them to learn. Many books have Chinese and English side by side. Yes, one page is in Chinese and the other page is English side by side. There are even CDs and DVDs for interactive learning.
My mom has been buying all of these books, CDs and DVDs for my son. What I love the most, they have Chinese traditional folk stories. But they are more appropriate for kids at least age 6 and older.
The setback is that books are so expensive, especially children's books. Plus, they don't have many board books or foam bubble books.

Hong Kong Facts for Kids Dining
---
When it comes to Hong Kong food for kids, there are not many restaurants that provide kids menu, except some American and franchised restaurants.
Does that mean that the Hong Kong culture is not kid-oriented? No, actually it's the opposite way. It is because kids are brought up to eat the same things as adults.
There's no need for them to have a separate menu. You can see that Hong Kong people can accept different food varieties and cuisines easily. And there are not that many food allergy cases like in the West.
Hong Kong Facts for Kids' Education
---
As China gets bigger and bigger economically, many companies want to open a branch office in the Mainland or Hong Kong. You may need to relocate for this reason.  Or your whole family is moving with you.
As a parent, you will need to know about Hong Kong facts for kids.
The no. 1 thing you need to prepare your kids and yourself for is the high pressure and keen competition. It has been like this since I was a kid.
How serious? Kids are expected to speak 3 languages, such as Cantonese (the local language), English and Mandarin (the official Chinese language) since the Handover in 1997.
On top of that, they are expected to know how to play a musical instrument, painting, a sport or something else as an extracurricular activity.
SIDEBAR: Interested in teaching the kids in writing and learning Chinese Mandarin?  Or just want to expose your child(ren) to something new, click here for FREE activity sheets.

Then, parents will use all kinds of resources to get their kids into the top 100 schools. So that they will be all set for their academic life.
There are a handful of "International" schools. They accept all nationalities. In my opinion, children in these schools are a little bit wild. The school system is more British-American oriented. Parents have to spend a fortune to send their kids to these schools.

Hong Kong Facts for Kids Extra-Curriculum
---
Kids can find teachers to teach all different kinds of musical instruments pretty easy in this city. These instruments can include piano, guitar, drums, violin, flute and others. Kids can also have more opportunities in learning Chinese instruments, too, like zen, er wu to mention a few.
To get their energy out, you can send them to different swimming classes. It's pretty much expected for all high schools. My high school happens to have its own pool which was super convenient.
Children can also ice-skate in Tai Koo Shing, the Elements and Festival Walk. It's open throughout the year. Several parks have roller skating rinks and running trails open for the public for free, such as Victoria Park and Kowloon Park.
There are many institutes offering courses and activities for kids of different ages. Of course, there are different price ranges. You get what you pay for.
Family Fun with Kids
---
For family fun, you could rent some ping pong, badminton, basketball or tennis court time from the government facilities. Many of them are relatively new, nice and clean with affordable pricing. My mom used to do that every weekend to get our energy out.
When we got older, we had a group of friends that would go together. But you need to reserve them a few weeks in advance. Many of them are fully booked within no time, especially those located in the best areas.
Children's Opportunities for Traveling Overseas
---
Due to the low tax rate, 70% of people in Hong Kong have savings. And it is the hub in Asia. Many families are able to afford to take the whole family for overseas vacation.
For kids, this is one of the best things. (I loved it when my parents took us somewhere overseas every summer.)
They are exposed to different cultures and widen their horizon at the very early stage of their lives.

Hong Kong Facts for Child Care
---
Also because of the low tax rate, many families are able to afford hiring low-cost foreign labor to babysit for kids and help in housework. The maid would stay with your family 24/7. There are some good and bad ones. Sometimes, it depends on your luck.
On the same token, it's not very common to send kids to day care in Hong Kong. There are just a handful of them in this city. My school had a day care section. Parents send their kids over there, like 2 of my younger sisters, because that is a stepping stone for the kids to get into the top 100 schools. But this rule doesn't apply to all day cares.
Hong Kong Facts for Kids - TV Series
---
What kids don't like cartoons? Cartoons are always on between 10am - 5pm. Most cartoons are originated in Japan. Some are from the west. Most of them are on the Chinese channels. Of course, all the characters speak in Cantonese. Though they broadcast Sesame Street on the English channel.
What I like about the cartoons in Hong Kong, most of them are appropriate for kids. In the States, there are kids channels broadcasting cartoons and dramas 24/7. But some of them are actually not for kids. Parent supervision is absolutely required.
My Thoughts On Hong Kong Facts for Kids
---
Being a parent, I consider having my son living in Hong Kong. Due to the competitiveness and pace of life, the kid(s) need to deal with some pressure and harshness very early on in his/her life. So, when they grow up, they already have developed the habits of how to deal with these situations.
But for some parents, to make a child deal with 3 languages at the same time, it's tough already, not to mention with the pressure from school and the others.
Check out the fun facts about Hong Kong to explore this small city in less than 15 minutes with your kid(s).
For more pictures of Hong Kong Facts for Kids, check out our Facebook page.

If you know anyone else offers Hong Kong kids program(s), please recommend them to sign up the form at the bottom of this page to become our affiliate.
Return from Hong Kong Facts For Kids page to Facts About Hong Kong Homepage