Fun Facts About Hong Kong
Vs
Guinness Records
Some fun facts about Hong Kong are listed in the Guinness Record. Interesting, huh?


A common scene with a big crowd of people that you can see everywhere in Hong Kong
The reason why I picked the topics below as the interesting facts about Hong Kong because of the frequently asked questions from my American friends and my husband's family.

If you have some more fun topics about Hong Kong that you are interested in, please feel free to let me know by filling out the Contact Us form.

Are you ready these fun facts about Hong Kong?
How can you travel in Hong Kong if you don't know Chinese?

---
Most things in Hong Kong are in both English, Cantonese and/or Chinese version. Stepping into MTR, for instance, if they make any announcement, there is always the Cantonese, Mandarin and English.

Another great example is the street sign.  They are always in both Chinese and English.

What does that mean to you? If you know either one of these languages, you can travel to this city without a travel agent or a tour guide. The chances of you get lost in this city are very low.
How did you learn English?

---
Every kid in Hong Kong starts learning English as soon as he/she starts school. Both Chinese and English are mandatory subjects from kindergarten to high school.

But how come some Hong Kong people can speak fluent English, but some don't?

It is because of the school system. There are schools in Hong Kong major in English. In other words, every subject is in English, except Chinese Language and Chinese History.

That means schools major in Chinese only has English as the only subject being in English. Like old saying says, "Practice makes perfect."
Under environment of any of these, certain Hong Kong people are proficient into one language.
Another fun facts about Hong Kong related this topic....because of the 1997 Handover, almost every Hong Kongnese can speak fluent Mandarin (the official Chinese language).
There is a saying, "If you don't know how to speak in Mandarin, you can't survive."
Does Hong Kong celebrate "so and so holiday"?

---
Christmas and Chinese New Year lighting is one of the annual entertainment to many Hong Kong people
Oh, yes!  This is the question that a lot of my hubby's family and my American friends asked. Hong Kong celebrates all the obvious in addition to the Chinese festivals such as, Christmas, Easter, New Year and Halloween, except Thanksgiving.
World's Longest Outdoor Covered Escalator

---
The outdoor covered escalator (coming soon - link to HK World's Longest Outdoor Covered Escalator page) in Central is the longest in the world. It is over 800m (almost half a mile) in distance; elevates over 135m (less than 0.1 mile) from bottom to top. It was constructed in 1993. For over 10 years, I used this escalator every day to go to my part-time job working as a piano teacher and an English tutor.

Instead of letting the escalator to take me to my destination, I walked. It gave me a lot of opportunities to catch up my exercises of the day.

Although Wikipedia said that the total travel time is 20 minutes, it depends on the traffic. I mean people's traffic. If you walk as quick as I used to be, it would take you 20 minutes to complete 3 quarters of its length.

This escalator brings you to travel back in time and witness the history of Hong Kong.

The Dark Knight
was filmed there in Nov 2007.
World's Best Airline

---
No kidding....Cathay Pacific received the award from Skytrax in 2014 as the world's best airline.  This was the 4th time that they got this award.  No other airline in the world received as many times as Cathay Pacific.
Its headquarter locates at the Hong Kong International Airport.  Although we heard on the news about their labor on strike very often, its service and everything this airline does do live up to its name. 
Several years ago when my sister and I went to Canada, we were on a plane of Cathay Pacific.  I can tell you, being a frequent flyer, that no other airline can compare to it.  No wonder it is the world's best airline.

One of the World's Longest Suspension Bridge

---
Tsing Ma Bridge is one of the longest suspension bridge in the world (by the main span, i.e. the length of suspended roadway between the bridge's towers)

It is rate no. 9 in the world as of 2013. It was the 2nd longest at time of completion. It links Lantau Island (where the Hong Kong Airport is currently located), Tsing Yi and Ma Wan which were all isolated islands in the past.
One of the World's Top 10 Most Adventurous Cable Car Ride

---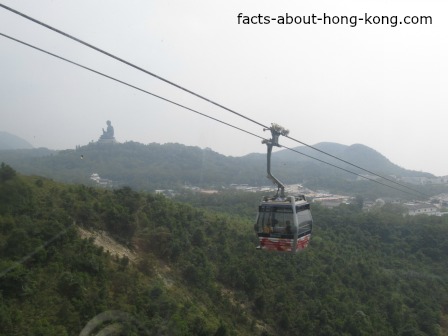 Did you just say "WOW"? Isn't this Ngong Ping 360 Cable amazing? If you love challenges, you must try out the glass bottom cable car.
Hong Kong Ngong Ping 360 Cable Car is listed by the Daily Mail, UK as one of the 10 world's breathtaking cable car ride.

How Many Islands Are There?

---
Do you know that there are 263 islands in Hong Kong?  But the "capital" is not in the largest island, Lantau Island.  It is in the 2nd largest one which is Hong Kong Island.
You may wonder how to get to each one of them.  Well, many islands, such as the Hong Kong Island, Tsing Yi, Lantau Island and Ap Lei Chau can easily get there through at least one or more transportation means.

You can only reach to some of them, like the Lamma Island and Cheung Chau (coming soon - link to Hong Kong Cheung Chau Tour page), through the ferry.  Some very small and "unheard" islands are almost unreachable.
The World's Busiest District

---
Mongkok, where one of the Ladies Markets located, in Kowloon has very high population density. How high? The Guinness World Records described it as the busiest district in the world.
If you don't believe it, go there after 11am when most of the stores open for the day.  You are literally rubbing shoulder to shoulder with the people around you.
My hubby, Perry, can't stand the people traffic over there.

Robert Ludlum's
The Bourne Supremacy
was set here.
One of the World's Tallest Buildings

---
This picture was taken in 2009 when the ICC Tower was still under construction.  Can you see the bamboo scaffolding up there?
The ICC Tower is the highest building in Hong Kong.  And....it is the 7th tallest building in the world as of 2013. 
In this building, you can spend a full day in shopping for the luxury, ice-skating, check out 360 degree Hong Kong skyline through Sky100 (coming soon - link to Hong Kong Sky100 page) and having high tea in the Ritz Carlton (one of the most luxurious hotels in the world).
World's Second Contact Less Smart Card System

---
Octopus was originally only used in MTR. Now, it is widely used in all different kinds of cash transactions in Hong Kong.  This is the second contact less smart card system in the world.

You will see that machines are everywhere.  I mean everywhere, including McDonald's Hong Kong.  You will see people always put their wallets on that machine.  Then, you will hear "doou...", "doou..." 
Yep, you are going to hear that "doou...", "doou..." everywhere, too.

Well, did you have enough fun facts about Hong Kong yet?

Here comes more.


World's Best Theme Park

---
I ain't kidding.  Ocean Park Hong Kong won the Applause Award as World's Best Theme Park in 2012.
There was a period of time that this theme park struggled financially and almost closed for good.  Who would ever think that it was elected as the best theme park in the world?
World's Largest Permanent Light and Sound Show
---
Hong Kong is so famous of its beautiful skyline that it is called the "Pearl of the Orient".  This laser show, the Symphony of Lights,is magnificent.  Any picture and/or video you see does not do its justice. 
You MUST watch it live.  It is FREE and on everyday.  As long as your time is available and the weather is fine, it is hard to say no to this Hong Kong attraction.
Some people would take a junk boat ride while appreciating this laser show.


One of the Global Geoparks

---
There are only 92 global geoparks (coming soon - link to Hong Kong Geo National Park) in the world. These parks need to meet certain conditions before they can listed as "global". And you know what? That's right.  One of them is in Hong Kong.
The Richest Man and the World's Busiest Container Terminal

---
Li Ka Shing is the richest man in Hong Kong.  In 2013, he was ranked as the 8th richest man in the world by Forbes.
His company, Hutchison Whampoa Limited, runs one of the busiest container terminals in the world.  Of course, that container terminal is located in Hong Kong.  You may be shocked of what I am going to tell you next....
This company also owns the Panama Canal.  No kidding...

The subsidiary of the same company owns 2 largest Hong Kong supermarket, Park 'n Shop, and pharmacy chain, Watson's.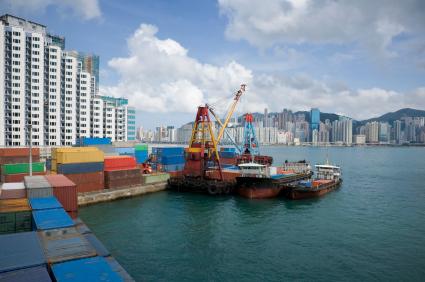 Just want to share with you some fun facts about Hong Kong behind the scene of the Hong Kong container terminal.
It was the world's busiest container port during these periods: 1987-1989, 1992-1997, and 1999-2004.
I was lucky enough to have this once-in-a-lifetime experience.  Although Hong Kong people always complain about the traffic congestion of container terminal, you will never know how efficient it is if you had never worked with it before.
The summer vacation I graduated from high school, my dad needed to unload 2-40' containers within one day and make the delivery to Park 'n Shop for its promotion.  He was a wholesaler of a brand of instant noodles.  It was a Sunday.  So, he was short of help.  My 2 younger sisters and I were recruited as part of the crew.
Seriously, the boxes of noodles were super, super light.  It took almost no effort to unload them at all.  But we could only pull one 40' container out of the dock at a time.  With the traffic congestion and several delivery trips to the warehouse, you may think that we would be late.
But both containers were in and out of the dock exactly the time what we were told.  Amazing, huh?

One of the World's Most Scenic Walks

---
The Peak Circle Walk at the Victoria Peak Hong Kong was picked by the Travel + Leisure as one of the world's most scenic walks.  In the past, it is called the "Walk of the Fool" because it starts and ends at the same place.
There were a lot of our footprints because my family and grandparents walked this path every morning during the weekend for several years.  Even though my grandparents passed, there are still a lot of wonderful memories.

More Fun Facts About Hong Kong
---
A typical bamboo scaffolding on the outside of the building during constructions and/or renovation
Hong Kong has the most Rolls Royce per capita in the world.

No matter how high a building is, there is always bamboo scaffolding when it is under construction.
People putting this scaffolding together used to be paid very good several years ago.

My hubby was a builder for 20 years. When he first saw the bamboo scaffolding, especially the one is over 100 stories high, he was absolutely in awe. It still gives him that WOW factor.
Just by looking at the above list of fun facts about Hong Kong, you may not be impressed.

Therefore, I put together the following list of comparison of Hong Kong size to some world well-known cities. Hope this will give you some ideas of how big it is and why having so many the most things in the world in this tiny city is so amazing.
City


Hong Kong

China

New York City

London

Beijing (capital of China)

Los Angeles

Moscow

Paris


Size (in sq. miles)


426

3,747,879

468

606

6,487



503

969

40.7


Size (in sq. km)


1,104

9,706,961

1,213

1,570

16,801



1,302

2,510

105.4

(Hong Kong is not even 0.01% of the size of China. But you can't imagine how significant the status quo of Hong Kong to China's world reputation.)
I hope you enjoyed reading this list of fun facts about Hong Kong.
Please check back later for more update.

If there is anything you believe that it should be listed as the fun facts about Hong Kong or something you want to learn more, please contact us.

Return from Fun Facts About Hong Kong page to Hong Kong Facts for Kids page

Return to Facts About Hong Kong Homepage