It Said, "You'll Never Starve"
Because of Jobs Hong Kong

Jobs Hong Kong are always in the service section. It is because almost all manufacturing and industrial companies have moved to mainland China.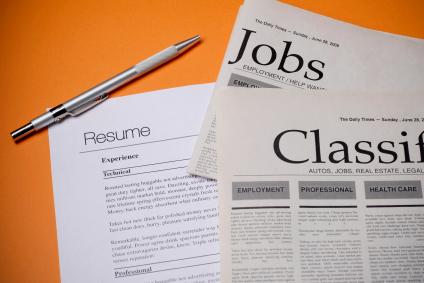 Classified ads in Chinese and English are everywhere in Hong Kong

Small companies hiring 1-2 people may provide you lunch. I worked at one in Sheung Wan, near the Western Market, from 1993-1995. That really saved me a lot of money.
One of my younger sisters works in a company that has about 100 people. Her husband has worked in the upper management for over 10 years. He was given a few percent of the ownership of the company several years ago.
If you are lucky enough, you could find jobs like this in Hong Kong.
Expectations of Jobs Hong Kong

---
There are several common features in Hong Kong jobs:
1) You are expected to work overtime without overtime pay.
2) It used to be 13-month salary as a must. Since the global economic downturn, not all of them would do so. Double check it when you go for an interview.
3) Fluent Cantonese, Mandarin and English is a must. But for westerners, this term could be negotiable.
4) As China becomes one of the biggest global economic power, many jobs Hong Kong require traveling to the mainland on a regular basis.
2 of my younger sisters are the best examples. One of them pretty much stations in the mainland 4 days a week. So, as her husband. And they work in different companies and fields. One works in accounting/audit and the other works in building/construction. Both of their companies headquartered in Hong Kong.
My other younger sister is required to travel to different part of China about once a month and work about in that area for 1-2 weeks each trip.
For some of you don't understand much about the market of jobs Hong Kong, you may wonder why companies prefer to hire Hong Kong people or companies located in Hong Kong.
The main reason is that the corruption rate is very low. According to 2011 Global Risk research, Hong Kong is listed as one of the top 10 Least Corruption Nations.
With the easy assess to China, those companies want to do honest business would prefer to rely on companies in Hong Kong because of their integrity and quality.
Although global economy is not great, looking for jobs in Hong Kong is almost as good and fast as it used to be.
Typically, the best time to look for jobs in Hong Kong is after Chinese New Year. As mentioned before, some companies still pay for the 13th month of salary as bonus. If the companies are owned by the Chinese or Hong Kong people, the bonus will be paid before the Chinese New Year. Otherwise, it usually paid at the end of December, right after Christmas.
Where To Look For Jobs Hong Kong?

---
To search for jobs in Hong Kong, look at the classified ads in the following sites. The first 2 belong to the 2 biggest Hong Kong newspaper company:
a) Job Market

b) Classified Post

c) Recruit - You can pick up the free magazine in any Hong Kong MTR station.
These are just a few popular ones. There are many headhunters in Hong Kong. Every newspaper has a classified section. If you are interested in some freelance jobs, check out the ads on the bulletin boards in the supermarkets.

Return from Jobs Hong Kong page to Main Living in Hong Kong page

Return to Facts About Hong Kong Homepage