You Can Get Almost Every Food In
Hong Kong Food Shopping
Hong Kong Food Shopping? You may think that it's a bit crazy...No Way...It's not crazy at all.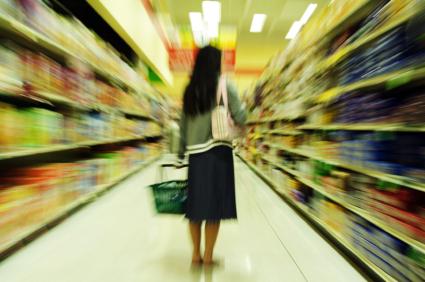 Rule of Thumb

---
Before we dive any further into the yummy food, let's talk about this first.
I am sure you and I want to buy some food back home during the trip.  It is like bringing your vacation back home with you.  But what to buy?  What is accepted in the customs in your home country?
1. NO meat is allowed. 
2. Package food in dried form is ok for the customs most of the time.  But it always depends on your luck, according to my experience.  It can be a package of food which looks perfectly fine and still confiscated by the staff at the customs.
Be honest when you declare the customs.
3. Expiry date...I am pretty sure that this is the information always getting your attention.  Most of the time, food sold in Hong Kong is before the expiration date.  There were times that some stores didn't get the expired food off the shelves and caused them a lot of trouble. 
Here is how to read the expiry date on for  next your Hong Kong food shopping trip:
a) Numberic - "DD/MM/YY"
b) Chinese - "YY.MM.DD"
Beware that if you buy packaged food from any mom and pop stores, there may not be expiration date.

Food To Bring Back Home From Hong Kong

---
There are several very well-known brands of food that you can bring back home. For instance, Lays potatoes chips have Peking Duck flavor. Quaker oatmeal has mushroom and chicken flavor. Campbell's has Ox Tail Soup.
Remember, you may not be able to find all of those mentioned above. It totally depends on which store and/or branch you step in.
If you like something local or traditional, check out the Chinese snacks. There are dried and spicy fish, cattle fish, candied plum, dried Kum Quot and so forth.
For local food items, have you ever tried instant macaroni in Chinese style? They have chicken, mushroom, ham and many other flavors.
I'm a noodle lover. There are tons and tons of ramen in different flavors, countries styles and brands available for me in this Hong Kong Food Shopping. Every time when I go back to Hong Kong, my mom always asks me if I want to bring a case back home.
Food To Enjoy During Hong Kong Vacation

---
Not everything can bring back home.  But you can buy it over there and enjoy it during your trip. 
1. Made-Ahead Meals

The Hong Kong supermarkets have freshly cooked dinner that you can buy take-out back to your hotel, these are the great places, too. My mom always brings their take-out meal back home for dinner. They have vegetables, meat and many other varieties to pick. She always buys a few dishes and goes back home to cook a big pot of rice. This is great help, especially since many Hong Kongnese work overtime without pay until after 8 or 9pm every night.
2. Boxed Ice-Cream

After dinner, you may want to have some dessert. Hong Kong's weather is always warm enough to have ice-cream. If you come to Hong Kong Tour with a family, a box of ice-cream may be a very economical way to go. I swear that there is no country in this world that has more ice-cream flavors than in Hong Kong.
You can find red bean, banana, mango, green tea, Lychee (a special fruit originated in China), coconut, taro root (my mom's all time favorite) and many more.
Green Tea and Red Bean (a.k.a. Azuki Bean) flavored ice-cream
Taro Root and Green Bean flavored ice bar (a.k.a. popsicle)
If you want to try something new, there are some ready-to-serve Chinese desserts. They are canned beans. Perry's family cannot get over the sweet beans. But they are traditional Chinese desserts. There are also packaged Chinese sweetened silk tofu with different flavors.
"Men, oh men." Compared to the flavored silk tofu in the States, those in Hong Kong are much, much better, in my opinion. It's authentic and light. If you want to try it or have some midnight snack at night in the hotel, these Hong Kong food shopping stores would be good places to go. And you don't need to worry about looking for a store in the middle of the night.
3. Hong Kong Street Food and Dim Sum in Packages
There are several great Hong Kong street food and popular dim sum served in Hong Kong restaurants are available in the frozen section in the supermarket.

If your hotel has a microwave oven available, this is a great way to try out the Hong Kong food within budget and for your safety.  I can understand that you may be suspicious about the hygiene of the street food.
4. Drinks/Beverages

What about some Chinese herbal drinks? They could be tea, soft drink or nutritious drinks. Some taste like tea with a lot of herb fragrances. Some taste sweet. They can be in tea bags, cans or boxes.
Look at the varieties of Lipton tea bags. It got Chinese tea, too.
This tea aisle filled with all different nationalities of tea
Potato chips have all the flavors that you had never thought of, such as sea weed, cattle fish, teriyaki and more
Here are some more flavors, such as tomato and sushi flavored chips. On the bottom right corner, there are regular American brand chips.
Look at this packaged drink aisle. It got regular sweetened lemon tea, Chinese herbal drink, juice of all different exotic fruit....Got to check it out
Jerky is a kind of food people love to buy as souvenir. There is beef, pork and chicken of different flavors. You sometimes find stores grilling the jerky in front of you and buy it warm. No kidding....
Jerky grilling away
Where To Go For
Hong Kong Food Shopping?

---
1) PARKnSHOP and Wellcome - These are the local chain supermarket giants. Each has over 100 stores in Hong Kong. If you go to their stores located in Causeway Bay, Central and/or Tsim Sha Tsui, there will be wider varieties.
My latest visit of the supermarket giants no longer use only their regular names, but also other names to differentiate their varieties and size of the stores. ParknShop has stores called International, Taste, Gourmet and so forth. It's a bit confusing.
Not enough Hong Kong Food Shopping? Check out these 2 supermarkets in the basements of the 2 Japanese department stores (below).
2) Jusco and Sogo - These 2 Hong Kong food shopping places not only have Japanese packaged food items, but also other countries exotic food items. I always love to buy "Super Lemon", a Japanese candy which tastes exactly like a real lemon. If you love sour, you MUST try them.
Perry always loves to look for Melty Kisses. They are Japanese chocolate truffles which are so smooth with different flavors. This chocolate is usually available before Christmas time.
While you are checking out the stores, you may smell something cooking. In these 2 supermarkets, they always give out food samples, especially meals cooked within a short period of time. Feel free to sample them, you may find something you like.
Have you ever tried the Japanese famous pastry stuffed with mashed sweetened red beans? The pastry is chewy and lightly dusted with confectionery sugar.
If you are a coffee drinker, you must try the Japanese coffee. It is light and smooth. They have many packed in soda cans to go.
Talking about the instant oatmeal above, have you ever thought that they have crab flavor? Oh yeah, no kidding. One of my sisters loves that flavor so much, she bought a BIG pack of it.
Did you see some exotic fruit in the Hong Kong Wet Market that you wanted to try, but didn't buy? These 2 supermarkets always have some fruit trays with disposable silverware enclosed. This can save you a lot of work.
You definitely will pass by Jusco and Sogo if you take a Hong Kong Tram Tour. These 2 Hong Kong Food shopping supermarkets are always packed with people, especially Sogo. Just be patient.
3) City Super - This Hong Kong food shopping supermarket's target customers are foreigners. Everything is more expensive.
There are different varieties of pasta and soup. It is more spacious comparatively. Most items are high-end.
They have wine, gourmet food, kitchen gadgets, fresh bakery, authentic and delicious cold cuts and many more.
During 2007 Christmas, Perry bought me a pound of freshly made ink pasta from their Admiralty branch. I had never paid so much for a pound of pasta. It cost him USD20 for that pound. But it was worth it.
4) Domestic Mom and Pop Stores - If you are looking for something originated from some traditional Chinese recipes and made in Hong Kong, check out some of the stores selling their homemade cookies, such as Chinese almond cookies (not the kind in any American Chinese restaurants. This one is white in color and has almond flavor.), sweet cookie rolls, seaweed wrapped cookie rolls stuffed with shredded coconuts and peanuts. These are just a few.


Some homemade cookies from the Hong Kong Mom and Pop stores
Glazed walnuts are at the back. The front is the chicken flavored sweet biscuit. Sometimes, you can sample it before deciding to buy it or not.
If you want to bring some of these packaged foods back home, check with the regulations of your home country. It would be great to travel safely and still keep your food by the time you get back home. Then, you will have a lot of fun in Hong Kong Food Shopping.
Return from Hong Kong Food Shopping page to Main Hong Kong Shopping page

Return to Facts About Hong Kong Homepage