Hong Kong Travel Gives You
Some Guidelines and Answers
for Your Traveling Plans
You may have many questions about Hong Kong Travel, what to do or maybe what to get, before traveling overseas. We will give you some guidelines.
Here are the FAQs: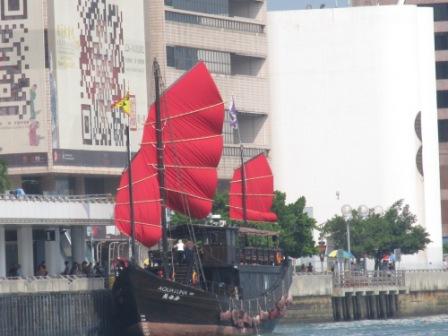 Hong Kong Junk Boat

Flight Duration

---
How long does it take to fly from your area to Hong Kong?  Including the traveling time in the plane, how long should your Hong Kong vacation last?

Flight Cost

---
How much does it cost for cheap flights to Hong Kong? Flying at different time/season can affect the cost drastically.
Weather

---
What kind of weather should you expect? So what clothes should you pack? Do you need any flu shot?  What else should you bring along in your luggage and/or carry-on?

Other Expenses

---
How much money or expenses you should anticipate or bring with you? Check out our Hong Kong Vacation page
Hong Kong Attractions (Must-Go)

---
What are the musts in Hong Kong so you can schedule your time/duration of stay? Is it possible for you to condense the tour? Check out our Hong Kong Attractions page
Hotels (Where to Stay?)

---
After finding out when you are going to travel, the weather and where to visit during your vacation, you may need to think about where are you going to stay?
Hotel accommodation could be a money and time saver if you pick the one best fit your need.
Travel Agents and Assistance

---
Are there any travel agents for travel assistance, such as local traveling plan or other Asian countries traveling?
Hong Kong is the Asian hub. If you are from Europe or America, would it be better to schedule other Asian countries tour while you are around in the area. This will save you more money and time in the long run.
I am always about getting the best bang for your buck.  If you are in Hong Kong, is there any places nearby that you want to go?  May as well take the advantage of it, right?
In my opinion, I highly recommend you to spend a day or two to check out Macau.  It does not require any traveling visa for most tourists.  Just a handful of countries' citizens may need this additional traveling document.
Other Southeastern Asian countries have the similar visa restrictions like Macau are Philippines and Thailand.

For more info about the nearby countries, check out our Travel resources page.

Tourism Board

---
Does Hong Kong have a tourism board that may be able to help you or answer your questions?
It also provides some condensed and theme-oriented Hong Kong tours with very reasonable price.  Not only does it help to save your time and money, it also helps you to learn and understand more about Hong Kong culture and history.

Traveling Visa

---
Do you need a visa to go to Hong Kong travel?
If you plan on going overseas on your own without a tour package, you need to do this research which can consume a lot of time. We hope this will save you some time and give you some peace of mind so that you can get ready and enjoy your vacation.
Return from Hong Kong Travel page to Facts About Hong Kong Homepage