Hong Kong Attractions
About A Condensed Tour
Within A Short Period of Time
Hong Kong attractions is a page for you to have some quick information or guidelines on how to visit all or most of the tourists musts with in a short period of time.

The Hong Kong Victoria Peak Tower
If you have a tight schedule, this will be a big help for you. We divided the tourists spots by location for your planning convenience.
We also use a star rating system (1-5) to show their importance. The more stars, the more significant for you to check out that place.
Do remember that places or attractions on this page are not the only places for you to travel in Hong Kong. There are many more. It is just for your condensed tour only.
Hong Kong Island
---
1) The Hong Kong Victoria Peak ***** - one of the highest points on the island to overlook the Victoria Harbour

2) The Jumbo (Floating Restaurant) ***** (coming soon link to the Jumbo Floating Restaurant page)

3) Horse Racing Court in Happy Valley *** - Horse racing season is during the winter months.

4) Junk Boat Ride ***** It's available either in the Hong Kong Island or the Kowloon Peninsula.

5) Hong Kong Western Market ** - An Edwardian building used to be a wet market and preserved to be a historical building with some mom-and-pop stores selling cloths, restaurant and so forth.

6) Shun Tak Centre ***** This is the place where you will board the hydro jet to go to Macau. (coming soon link to Shun Tak Centre - Traveling to Macau page)
Chi Lin Nunnery
Kowloon Peninsula
---
1) Chi Lin Nunnery ***** - Was built without using a single nail.

2) Nan Lian Garden ***** - A Showcase of Traditional Chinese Landscaping in the 7th Century.

The above 2 Hong Kong attractions are right across the street from each other. They were built with the Tang dynasty's (618-917 A.D.) construction methods. The buildings are built of wood without a using any nails. There are no buildings like this in the world, except China. (These 2 are the MUSTS for any Hong Kong attractions tour, in my opinion.)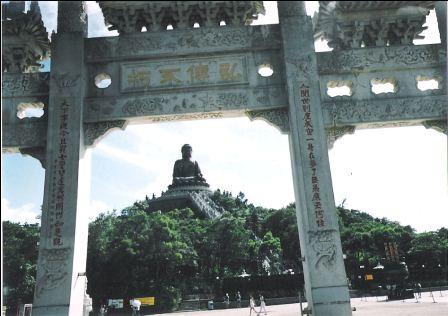 Hong Kong Giant Buddha
The New Territories
---
1) Lam Tsuen Wishing Tree * - This tree has been visited by many people. It has had tons of wish-making paper and oranges hanging on the tree. But it literally doesn't exist anymore.
Outlying Islands
---
1) The Buddha***** - Any Hong Kong attractions tour must include this beautiful spot.

2) Ngong Ping 360***** - While you are visiting the Giant Buddha, may as well to take the opportunity to check this out.  These 2 Hong Kong attractions are next to each other.

3) Hong Kong Lantau Island Tour**** - If time is allowed after the tour of the Giant Buddha and Ngong Ping 360, check out the Tai O Fishing Village; see if you have any luck to say hi to a Chinese pink dolphin and look at the Tsing Ma Bridge, the longest suspension bridge in the world.

4) Lamma Island (and Lamma Wind)**** - One of the most popular Outlying Islands.

5) Cheung Chau**** (coming soon link to Cheung Chau page)
Hong Kong Tram Tour
Around-the-island
---
1) Tram Ride - Hong Kong Island ***** - Fastest way to check out the northern part of Hong Kong Island.

2) Hong Kong Star Ferry - Coast to Coast ***** - This Hong Kong attractions tour is cheap and comparatively short. It lasts for less than an hour for the back-and-forth tour. It allows you to see the beauty of the Hong Kong Victoria Harbour, especially at night.

3) MTR Ride (East and West Rail) - New Territories ***** - go all the way to the Chinese border (coming soon link to MTR Ride page)
4) Hong Kong Skyline - Symphony of Lights - Both sides of the Hong Kong Victoria Harbour ***** - The world's largest permanent light and sound show according to the Guinness World Records

Customized Tour

---
Hong Kong tour for kids - Parents, are you trying to figure out where you should bring your kid(s) so that the whole family can enjoy the trip?  Here is a page for you.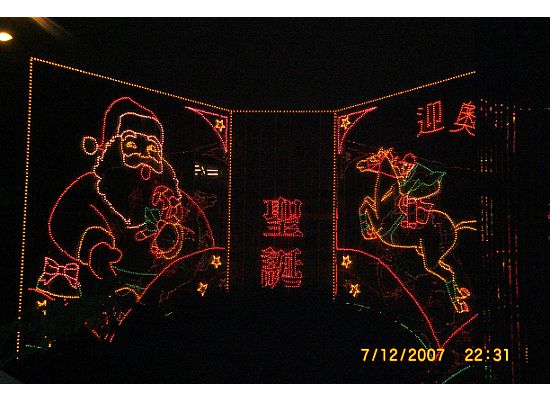 Hong Kong Christmas Lighting
Hong Kong Seasonal Tour
---
1) Chinese New Year Tour ***** (from Jan to Feb) - Hong Kong Island and Kowloon Peninsula
There is always fire work on the 2nd day of the Lunar New Year. Throughout the first 3 days of this festival, you can see Chinese Dragon or Lion dance.


2) Cheung Chau Bun Festival *****(May only) - Cheung Chau (coming soon link to Cheung Chau page)

3) Hong Kong Dragon Boat Festival ***** - (Jun only)- For the fun of Boat Racing, Food and More.

4) Chinese Mid-Autumn Festival***** (Mid-Sept to Early Oct) - mainly Hong Kong Island
There is Fire Dragon dance which is unique in this city only. Mainland China does not have it. If time is available, you got to check out Candle-Lighted Beaches in the southern side of the Hong Kong Island.
Of course, there are many other activities and celebrations throughout the city.


5) Hong Kong Halloween Celebration***** (Sep - Oct) - Around the island.  People in this city came a long way to accept this festival.  As usual, it has the its own twist to make it the Hong Kong way. You have to come here to feel that Hong Kong elements in Halloween.  It is definitely very different from the Halloween in other countries.


6) Hong Kong Christmas Tour ***** -(from Nov to early of Jan) - Hong Kong Island and Kowloon Peninsula. Between Christmas and Chinese New Year, I got to say it is the most gorgeous time of the city.
There are many Hong Kong Museums that worths checking out. But we did not include on this page. Click here to find out the details.

Check out our Facebook page for our photo albums.

Come back later for more updates.

Return from Hong Kong Attractions page to Facts About Hong Kong Homepage

---
If you like our site or this page, please click the "Like" button
on the right column to share it with your friends!
---