All Hong Kong Gambling Games Run by the
Hong Kong Jockey Club
The Hong Kong Jockey Club is open to the public. But some of the privileges are limited to those that are rich.

Horse racing season is on during the winter time in Hong Kong which is not as cold as northern countries, such as the U.S.A. and Canada. There is no horse racing during summer time due to the high temperature and humidity.
My parents always kept us away from the "Majong" table (a Chinese gambling game). Therefore, I have never had a chance to watch live horse racing in Hong Kong.
But I got to say horse racing is a kind of entertainment for many Hong Kong people. You will not believe how many people sitting next to the radio or TV listening live about the racing. And lines and lines of people wait to do the off tracking betting.

One of them was my grandfather. He always bought extra newspaper so that he could read more analysis of which horse would win him big money. This is just an insight of what some people do when it comes to horse racing.

There are 2 race courses in Hong Kong. One is in Shatin in the New Territories and the other one is in Happy Valley on Hong Kong Island. Here, we will concentrate on the one in Happy Valley.
When I went back to Hong Kong in Feburary 2009 and October 2012, I had a chance to go into their restaurant. It is only open for members and people have a Hang Seng Platinum credit card. If you want to become a member, the membership fee is outrageous.
Although I had been in Happy Valley for so many years (my kindergarten and elementary schools were in this district) and I passed by it almost every day, this was my first time to take a good look at the race course.
When there is horse racing, the whole area, Happy Valley, is like a mad house. Once you go in, don't expect to get out easily.
After lunch, we went to check out the Hong Kong Jockey Club Museum (coming soon link to HK Jockey Club Museum Page). It is closed on Mondays which was the reason why I couldn't visit it in 2009.
In 2012, we were able to visit there with our little one whom love horses so much.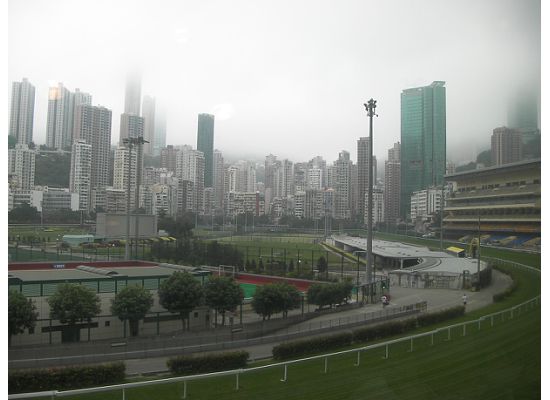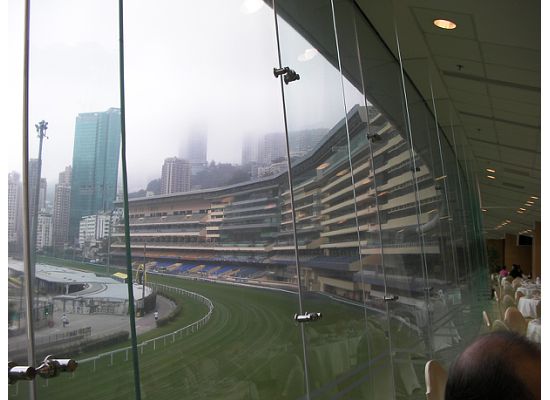 These 2 pictures were taken from the restaurant in the Jockey Club overlooking the Racing Course at different angles
Age matters. On any day of horse racing, they only allow people 18 years old or over stepping into the racing course and/or the Hong Kong Jockey Club restaurant. This rule applies to newborn baby as well. If you have kid(s) under 18, make some plan ahead of time.

Learn more about Hong Kong Jockey Club.
Return from Hong Kong Jockey Club page to Main Hong Kong Entertainment page

Return to Facts About Hong Kong Homepage