Hong Kong Real Jewelry
First Class Quality, Great Prices

Hong Kong real jewelry shopping is mainly for 24 carat gold (the highest purity of gold), white gold, diamonds, jade and collectible watches. The gold sold in Hong Kong is called "Chuk Kam" and has a dull color.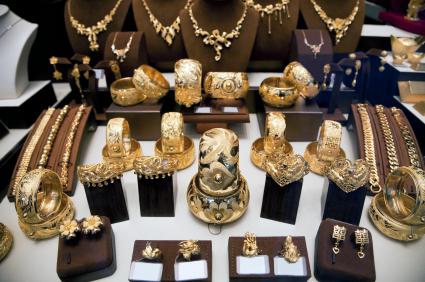 I will tell you what kind of designs are available, where to buy, the usual practices of the Hong Kong real jewelry stores and how to find the best deal.

Why Are There So Many Jewelry Stores?
---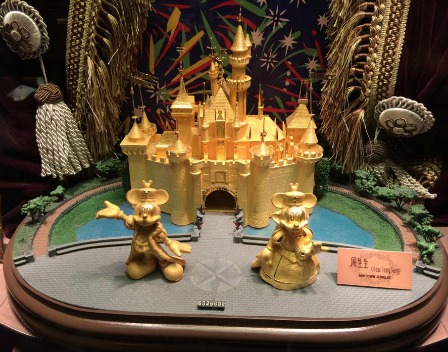 Mickey and Minnie in front of the Disney castle. In fact, this cute little gold statue was showcasing in a jewelry store in Hong Kong Disneyland. (Thanks to my sister sharing this pic)
I must admit that there are really a lot.
In my recent visit in Oct 2012, the area mentioned above is actually flooded with Hong Kong real jewelry stores. You can easily find 2 branches of the same store within a few 100 feet. It is crazy and scary.
It has never happened before. The stores are so close to each other like having a branch of McDonald's or Starbucks right across the street from its other branch.
It is because of the demand.  Many Chinese mainlanders come to Hong Kong just to visit do Hong Kong real jewelry shopping due to its good reputation.
However, after the economy downturn in 2014, especially after the Hong Kong Umbrella Movement, some stores closed down.  But there are still many out there.

Hong Kong Real Jewelry Stores Usual Practices
---
Because of its high purity, you always see "999" or "999.9" are engraved at the back of the jewelry.

Don't be surprised that when you see a piece of jewelry made of real gold and there is no price tag on it. It is very common. What the store would do is to multiply the today's gold price and the weight of gold used in that piece of jewelry. On top of that, a small percentage of "labor cost" will be added.
For small jewelry stores, this "labor cost" is negotiable. Actually, most of their jewelry price is negotiable. But it doesn't apply to the big ones.
The measurement unit of weight is "Liang" in Chinese (a.k.a. tael or Chinese ounce).  Most of the Hong Kong real jewelry stores still use this unit.  One tael equals to 37.301g (One ounce = 28.349523g).
Jewelry Designs
---
There are also some stores which sell unique designed jewelry. Each piece has a price tag on it. Comparatively speaking, these stores are more expensive due to the design.

To many people, Hong Kong real jewelry is only for adult. But it is for kids, too.
People always like to buy real jewelry for new born. You will be amazed how many cute and lovable designs for kids with different sizes. Big Hong Kong real jewelry stores have some cartoon characters that almost everybody knows, such as Mickey Mouse, Snoopy, Hello Kitty and so forth.
Hong Kong people also loves real jewelry collectibles. What I meant is that we don't only wear them, but also collect them.
You may find there are little golden statues in every store. The most popular designs are the 12 Chinese zodiacs. They come with all different sizes.
My brother-in-law bought one zodiac sign a year for his mother every Chinese New Year until she got all 12 of them as a collection.
Some people like to collect jade which would be the designs of Buddhas or Chinese boats.
People also love to buy real jewelry for newly-wed. My sister and her husband bought us a wedding couple made of real gold as our wedding gift.
So if you want to buy something holding good values, Hong Kong real jewelry shopping could be a very good route to go. You will be in awe many of them are in great quality and marvelous designs other than just the values it holds.
Your Buying/Bargain Strategies
---
To get your diamonds certified, DFHK (Diamond Federation Of Hong Kong) provides world class service and efficiency. Before 2009, diamond certification must be done in the States. For customers in Asia, it took a long time and risk to send the diamonds overseas for the process. Now, it is much more convenient.
Talking about shopping, there are over 10 real jewelry stores on Hennessy Road in Causeway Bay. Most of them have been in business for several decades. My parents have been buying gold and jewelry from these stores since we were kids.
Location:
Hong Kong Island
Direction:
MTR Causeway Bay Station Exit C (You will see the stores along the tram railway)


If you can't find anything there, turn the corner and check out some of the bigger chain companies in and around the Times Square Mall. It is less than a 10 minute walk away from Hennessy Road. Most of them are located in the B2 level.
Yes, there are many, many stores out there.
So...take this as an advantage for your Hong Kong real jewelry shopping. Who doesn't want to save money and find a great deal, right?
Branches of the chain store are so close to each other because they want to have a big piece of pie in the market. At the same time, they compete with each other internally.
Remember, a piece of real jewelry is different from the costume ones. It is not made by machines. Every piece is unique even it has the same design. The weight of the gold is slightly different. Each diamond is different.
That means even you step into 2 different stores of the same chain, that piece of real jewelry you are interested in is not 100% the same. So, use this as your bargaining power. If the salesperson knows that you checked out their other branch, he/she will try to accommodate you to make that sale happens.
On the other hand, certain designs of the Hong Kong real jewelry are very common to small and big stores. This is even better for you as a buyer. Check out a few stores before making the final decision of where you should buy it and strike a deal.
Shopping in Causeway Bay or Tsim Sha Tsui definitely gives you this advantage. You literally walk from one store to another. You most probably can figure which store you should go within an hour after visiting at least 10 of them already.

Location, Location, Location
---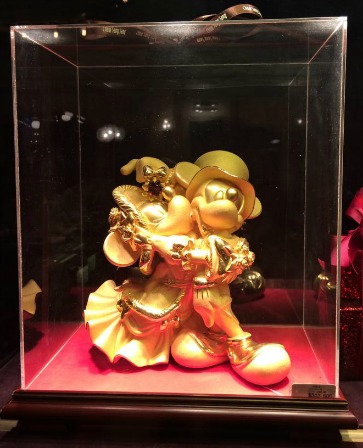 Mickey and Minnie dancing togther. This statue is in one of the real jewelry stores in Hong Kong Disneyland. (Thanks to my sister sharing this pic)
We know that location is very important for a business and an investment of a real estate property.  So as shopping for Hong Kong real jewelry.  Why?
Causeway Bay and Tsim Sha Tsui are the 2 districts where most of the jewelry stores located.  At the same time, rent is their biggest expense which means they need to charge enough to pay their bill.
If you go to other districts where there are not many Hong Kong real jewelry stores, the price for a piece of jewelry could be comparatively cheaper.

Legitimacy
---
Buying a piece of jewelry is a big investment.  It could be a valuable that would remind you a once-in-a-lifetime event.  I know you want to make sure that you got the best deal at the right place.  Feel free to check out these Hong Kong organizations which can help you to verify the legitimacy of any Hong Kong real jewelry stores:
1) Hong Kong Jewellers' & Goldsmiths' Association - Their website is not very updated.  Best way to do is to call them: (852)2543-9633, (852)2541-8995
2) Diamond Federation of Hong Kong, China Ltd - As mentioned earlier, they do diamond certification.  They also have a list of Hong Kong real jewelers.
3) Hong Kong Tourism Board - You can easily find a list of QTS qualified stores.  Getting the QTS qualification is a very difficult.  The store must fulfill certain requirements and pass the annual assessment.

Second Hand Hong Kong Real Jewelry Shopping
---
Before diving into the details, I would like to tell you that buying second hand merchandizes is not common in the Hong Kong culture. People may buy second hand car or real estate. However, buying second hand car is still not as popular as in the western countries.

This explain why you can hardly find any second hand real jewelry stores in Hong Kong.

In fact, the transaction (that is the purchase and/or sale) happens in the same store. What does that mean?

That means any Hong Kong real jewelry store sells any brand new merchandises also buys jewelry from the public which we call it as second hand jewelry.

Depending on the color and/or the quality of that piece of jewelry, the store may refurbish or just remake another piece of jewelry out of the material.

No matter what they are going to do with that piece of second hand jewelry, it is hard to tell whether it is brand new or second hand.

Now you know that Hong Kong second hand real jewelry may be possible. But you just don't know what you are going to buy if it was a second-hand or brand new.
Interestingly, you can do second hand luxury shopping for handbags and pocketbooks.

List of Hong Kong Traditional
Real Jewelry Chain Stores
---
These companies have traditional Chinese, contemporary and fusion designs:
1. Chow Sang Sang  - This company has a very good website through which you can purchase jewelry online, gold price and even graphic to print out to show you how to find out your ring size. 
(Gentlemen, if you are planning to propose or buy a ring as a gift for special occasion, this would be a good website to check out.  At least, it helps you to look for the correct ring size.  How about that?)
2. Chow Tai Fook  - This Hong Kong real jewelry store also allows you to shop online.  But it only limits to Chinese.

3. Luk Fook - Since its opening, a lot of rumor said that one of the owners is a Hong Kong movie star.  It has never officially confirmed it.  But she has been the spokewoman of this chain store for a long, long time.
4. TSL - This company has a very long history.  However, under the keen competition of this industry, it looks pretty small in scale compared to any of the above.  They do have their appearances in the major shopping area.

What Else Hong Kong Real Jewelry Stores Offer?
---
Traditional design is not only for the older people, but also for wedding.
Hong Kong wedding ceremonies are the combination of western and traditional Chinese customs. You may see thick, big and heavy bracelets and pendents. They are for this purpose.

Many stores mentioned above help customers to clean their jewelry. It always takes a few minutes. But they always measure your jewelry in front of you before cleaning just to protect both parties. They won't clean it for you unless you buy something from them. So, remember this.
Contemporary Jewelry Chain Stores
---
The following companies provide contemporary and fusion designs and show the price tags on the display:
1. J's - This company used to be a big one.  It is now downsized to 2 stores.  You won't find much from its site.  But it emphasizes customization.


2.
MaBelle
- This website improved significantly in the last couple years. It is in both Chinese and English. It provides engraving service. The best of all, FREE international shipping, FREE gift wrapping and 14 days return policy. It is way beyond anything you can ask for when it comes to Hong Kong real jewelry shopping.
I like the designs of this store that many of them suitable for work. You can get some extravagant ones for special occasions. Many varieties to choose from. Definitely, 2 THUMBS UP.
3. My Jewelry - A unique feature of this website is to look up the diamond price for you.  You can customize it very detailed in the shape, carat, cut grade, clarity and so forth to find out the price.
The downside of this site is that every click brings up a new window.  By the time you finish browsing through 1-2 categories, you have 6-8 windows opened up.

4. Pink Box - It features the royal crown collection.  I remember the very first impression when it started, the jewelry looked more like costume jewelry than the real one.  Now, it is one of the leading Hong Kong real jewelry stores. 

5. Emphasis - This is under Chow Sang Sang group.  Nevertheless, the theme and the products are 180 degree different from its mother company.  It is very contemporary in style.  Numbers of stores are not as many as its Chow Sang Sang either.  It does have a few branches located at the major shopping districts. 
Where To Buy Watches in Hong Kong?
---
Here are some reputable retail watch companies:
1. City Chain - Their style is more for middle class.  You can easily find a watch that you can put on and fit for all occasions.

2. Prince Jewellery & Watch - If you like luxury watches, there is THE place to shop.  They also sell real jewelry.

3. Swatch Shop - The style has been contemporary and collectible watches.


Where To Buy Jade in Hong Kong?
---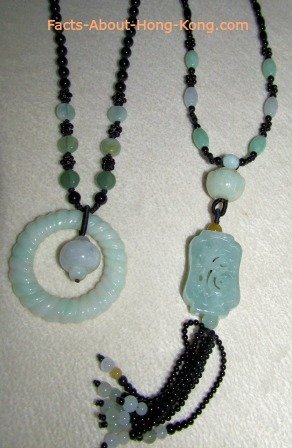 My mom bought these 2 jade necklaces from one of the Hong Kong department stores featuring products made in China.
If you are an expert at picking jade, feel free to check out any jewelry stores or Jade Street. 
Jade Market and Jade Street
---
There was a long period of time that my mom loved to check out the stalls at the Jade Street.  It looks like walking into the Ladies' Market.  But they sell jade in all different shapes and colors instead of clothes and shoes.
My mom stopped coming here when she found out a piece of gorgeous jade pendant she bought for my grandma was fake.  Here is the risk when it comes to buying jade almost anywhere in Hong Kong.
I highly recommend that if you just want to check out this Hong Kong attraction, go for it.  If you see something that you really want and can't resist the temptation, set your budget and not to spend too much, especially if you have no idea of how to authenticate it.
It takes a long time to find a trust-worthy store when it comes to jade.
You can also find jade in the stores selling real jewelry.  They may not have a big variety for you to choose from.
Direction: MTR Yau Ma Tei Station, Exit C. Walk along Nathan Road to Kansu Street, then continue along Kansu Street until you reach the Jade Market
Otherwise, you may want to check out this store:
Chinese Arts & Crafts (HK) Co., Ltd. - The price they set in this store ranges from super affordable to very, very pricey.  Merchandizes, other than jade, are very elegant and reasonably prices.  They have a few branches in the main tourist districts, such as Causeway Bay, Admiralty, Central and Tsim Sha Tsui.

Hong Kong Real Jewelry Shopping Mall
---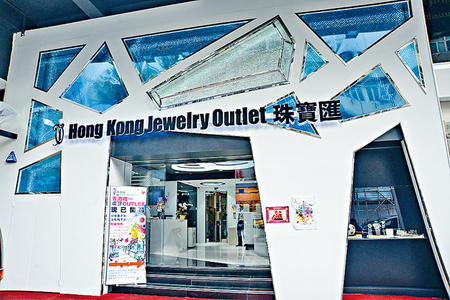 (photo from http://news.sina.com.hk)
The first Hong Kong jewelry-themed shopping mall, Hong Kong Jewelry Outlet, just opened in November 2013.  It is located at the intersection of Jade Street and Jordan Road in Kowloon.
If you are in the Ladies' Market in Mongkok or doing any electronic shopping, you are around the area.  May as well to check it out, right?

There are 30 real jewelry stores in the mall.  Unlike the stores listed in this page earlier, these stores are small businesses.  A few of them have been in business for more than 30 years.
The layout inside the mall is very similar to a traditional department store.  There are different sections.  When you finally pick the piece of jewelry you want to purchase, you will check out at the cashier.
It sounds like customers can take as much time as they want to check out different jewelry before making their final decisions.  What made me to say that? 
Well, a regular Hong Kong real jewelry stores usually has a sales person to follow you around, literllay, the minute you step into the store.

The 2 big selling points of the Hong Kong Jewelry Outlet are:

1) Price is about 20% cheaper because most of them are wholesalers.

2) The jewelry is designed locally.  If you are looking for some special designs, this may be a plus.

If you go on their website, you can find out what you can buy at certain range of budget (in Hong Kong currency).  They may not list out everything.  But it is better to check it online first before physically go to the mall and realize nothing works for you.

Direction: 504-512 Canton Road, Jordan, Kowloon
Get off the MTR at Jordan Station exit A.  Turn right and walk about 5 minutes

My Real Jewelry Shopping Experience
---
Like many Hong Kong people and Asian, we love real jewelry.  My mom, sisters and I always look for something unique, special and valuable.

We have been shopping from all different stores, from the smallest mom-and-pop store to the biggest chain stores.  We even shopped in some big chain stores that sprouted from nowhere and closed down all of a sudden.

We even developed good relationships with some staff in certain stores.  When some of them quit and work in another stores, we literally follow them because of our trust.  Unfortunately, there is a small percentage of them taking this trust as an advantage and abuse it.

Now, here is the thing that I want to share my experience with you.  I learned this lesson in a hard way.

Many years ago, we bought from a mom-and-pop Hong Kong real jewelry store.  Our shopping trips were very frequent.  So, we started to know their store manager.

A couple years passed by, we found out that he opened a store literally just a few feet away from where he used to work.  With all the competitors around in the same area, you would think that we will shop around like I suggested you earlier.  But no, we didn't.  We thought, "Why don't we give the business to the person we knew?"

That year, I bought a set of black pearl pendant surrounded with small diamonds and white gold necklace for my mom's birthday.  It was gorgeous and this was the kind of jewelry that my mom didn't have at that time. 
About a year after that transaction, the color of the pearl changed drastically.  It went from glamorous to ugly.  And my mom could never have put it on again. 

As you may have already known, there is no refund or return policy in Hong Kong.  Not to mention that the transaction happened a year ago.

From then on, we stopped making purchases from that place.  We don't know if that guy is still alive 'cos he was in his late 60s when he opened that store of his own about a decade ago.

What did we learn?  Even though you know that salesperson, always be alert before making a purchase, especially for something costing you a fortune.

I don't want to scare you because of my experience.  Plus, it is just that one incident.  We have been very lucky in all our Hong Kong real jewelry shopping trips we made throughout the years.  But just always be alert.

Hong Kong Real Jewelry Shopping Map
---
For more Hong Kong jewelry and/or watch retailers, check the Hong Kong Tourism Board website.

The map below shows the route of where all the Hong Kong Real Jewelry stores are concentrated around Times Square Mall and Tsim Sha Tsui. You don't have to buy in this area because there are plenty of stores in Hong Kong providing good quality and great prices of real jewelry.
Care to share your Hong Kong real jewelry shopping experience with us?  Add your comment at the bottom of the page or Contact Me.

If you are interested to advertise with us, please fill out the form at the bottom of this page.
Return from Hong Kong real jewelry page to Main Hong Kong Shopping page

Return to Facts About Hong Kong Homepage