Hong Kong Healthcare
Info for Tourists and People
Interested In Moving To This City
Hope when you found this Hong Kong healthcare page is for precaution, not because you are sick.  It is also for anybody who is interested in living in Hong Kong and would like to know ahead of time how much for the medical costs.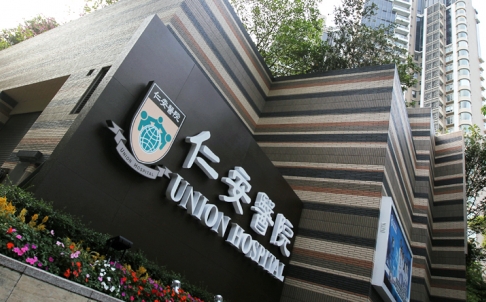 (Image source: scmp.com)
Hong Kong Union Hospital, managed by a private sector

Where should you go to see a doctor in Hong Kong?  How can you find one?
---
Best is to ask the staff in your hotel. While you are not well, you don't want travel too far. The staff should know some doctors nearby. Plus, they can tell if the doctor can communicate with you in your own language and their working hours.

Why ask them? Because many of them may go to that doctor one way or the other in the past. They could share with you their personal experiences.

Will it be very expensive for Hong Kong healthcare?
---
Going to see a private general practice doctor without any insurance, it is about HKD180-500. It depends on the location and the reputation of the doctor.

This price is often includes a doctor visit and 3-day medication. Nobody in Hong Kong has any medical insurance. So, don't worry about the insurance. You may be surprised how affordable of the Hong Kong healthcare cost is.

Dr. Michael Leung is the doctor we have been going since we were kids.

He speaks English. Although he has an accent, my hubby, Perry, didn't have any problem understanding him.  Last time when my hubby visited him, he got 3-day prescription and a doctor visit for HKD180.  You won't believe it.  This price has never been changed for 20 years.  So as his working hours.

The clinic opens 7 days a week. The hour on Sundays is from 9:30-13:00

He is also the pediatrician and able to communicate in English. He blends in some Chinese medical methods, such as no icy cold drink and banana which are believed to cause more coughing.

Do they need your Hong Kong insurance?
---
Going to see a doctor in Hong Kong, you do NOT need any medical insurance, but an identity document, such as passport.

Will you able to communicate with the doctor in this city?
---
Most doctors, over 90%, can communicate in English. Due to the demand of Mandarin speaking, many of them can communicate in Mandarin as well.

(Side note - there are a few doctors in Hong Kong belong to different nationalities. They not only speak in their own mother languages, but also English and, maybe, Cantonese.)

Where should you get the prescription after your Hong Kong doctor visit?
---
Hong Kong pharmacy chain giants, Watsons and Mannings, are next to each other.
Any Hong Kong pharmacy with the Rx sign. There are 2 giants in Hong Kong, Watsons and Mannings.

Where is the best hospital in Hong Kong?
---
Different hospital is good at different area.  It is hard to tell which is the best.  But here is the list of Hong Kong hospitals.

Government Hospitals:

Hong Kong Hospital Authority is the organization managing the government hospitals.  By seeing the sign like the one on your right, you can figure out what kind of hospital is.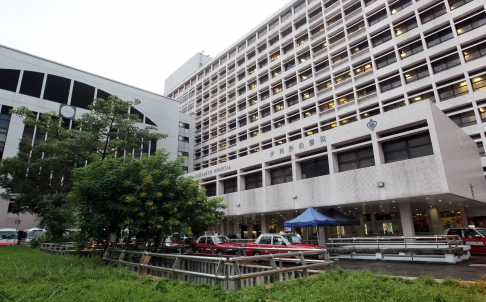 (Image source: scmp.com)
Hong Kong Queen Elizabeth Hospital, one of those managed by the Hospital Authority
Hong Kong Island

Grantham Hospital
Queen Mary Hospital
The Duchess of Kent Children's Hospital at Sandy Bay
Pamela Youde Nethersole Eastern Hospital
Ruttonjee Hospital
St. John Hospital
Tang Shiu Kin Hospital
Tung Wah Eastern Hospital
Tsan Yuk Hospital
Tung Wah Group of Hospitals Fung Yiu King Hospital
Tung Wah Hospital
Wong Chuk Hang Hospital

Kowloon Peninsula

Caritas Medical Centre
Haven of Hope Hospital
Hong Kong Buddhist Hospital
Hong Kong Eye Hospital
Kowloon Hospital
Kwai Chung Hospital
Kwong Wah Hospital
North Lantau Hospital
Our Lady of Maryknoll Hospital
Princess Margaret Hospital
Queen Elizabeth Hospital
Tseung Kwan O Hospital
TWGHs Wong Tai Sin Hospital
United Christian Hospital
Yan Chai Hospital

The New Territories

Alice Ho Miu Ling Nethersole Hospital
Castle Peak Hospital
North District Hospital
Pok Oi Hospital
Prince of Wales Hospital
Shatin Hospital
Siu Lam Hospital
Tai Po Hospital
Tuen Mun Hospital
Private Hospitals

Canossa Hospital (Caritas)
Evangel Hospital
Hong Kong Adventist Hospital
Hong Kong Baptist Hospital
Hong Kong Sanatorium and Hospital
Matilda International Hospital
Precious Blood Hospital (Caritas)
St. Paul's Hospital
St. Teresa's Hospital
Tsuen Wan Adventist Hospital
Union Hospital

To learn more about the details of Hong Kong healthcare provided by these hospitals, click here.

Will you be better off seeing a doctor in Hong Kong hospital?
---
(Image source: http://www.thomsonadsett.com)
Hong Kong St. Paul's Hospital, Causeway Bay.  This is a brand new building.  Pay attention to the bottom right corner.  That was the old building.  This hospital grew up with me.  All my sisters and I were born in this hospital.  My grandmother, 2 younger sisters and I studies in the school next door which is under the same organization.
It depends how you look at it. When I was a child, we went to see the doctors in the Hong Kong private hospitals many times. We only went to the hospital during the weekend when our doctor's office was close.

But now with our current doctor, open 7 days a week, we rarely go to the hospital except for some special treatment or visit.

Going to the hospital, private or not, you still need to wait for your turn. Depends on how many patients in front of you, it could be 3-4 hours before your turn.

Private Hong Kong hospitals charge about the same price as any private doctors out there. The advantage is that if there is any minor procedure that needs to be done. It could be done right there during the same visit. That's the beauty of Hong Kong healthcare.

Certain private hospitals list their consultation fee on their websites.

If it is just a general visit, like cold, flu and so forth, the price you are going to pay will include a visit with the doctor and 3-day prescription. You can get it right at the hospital even during the weekend. 

However, if you decide to go to the government or non-profit hospital, the time of waiting could be longer. They usually take care of those for the emergency first. The price is insanely low with more than 3-day prescription.

If you go during the weekend, you can't pick up prescription until Monday. In some cases, they may give you one or two days of prescription, depending on their stock.

Staff from all hospitals can speak in fluent English and Mandarin. And most of them are very friendly and courteous.

Also, just like in the doctor's office, it needs ID documents, such as passport to proof your identity. No medical insurance is required.

Traveler's Experience of Hong Kong Healthcare

---
Here is a real life story of my husband's experience that had never had a doctor visit in Hong Kong until 2012.

Since my hubby forgot to bring his allergy medicine along, he requested the doctor to prescribe him the same prescription as he has at home. Same brand, same dosage.

We went to the pharmacy to pick up the prescription, Singulair. It was a 2-week prescription. It only took us 5 minutes to get everything and walked out of the pharmacy. Remember, the doctor did not call in the prescription.  The price we paid for was the same as the co-pay we pay in the States. We were shocked how low the price was. It was less than a quarter what the total price charged in the States.

Before Perry went to see the doctor, he had been telling me that the cost of Hong Kong healthcare is so low because of the government subsidy. No matter how many times I explained to him that it is not the case, he just didn't believe it.

Well, after this doctor visit, he finally believe what I said. It was a private doctor he went to. And it only cost so little. You would not believe how many times he bragged about the low cost of Hong Kong healthcare since then.


There you have it. I sure hope that you don't need to see a doctor in Hong Kong, especially during your vacation. But if you are looking for info for Hong Kong healthcare, I hope this helps.

Any new info or tips you learn while you are in Hong Kong? I'd love to know!

Return from Hong Kong Healthcare page to Main Living in Hong Kong page

Return to Facts About Hong Kong Homepage