Colorful Hong Kong Nightlife
Eating, Shopping, Clubbing
And More...
Hong Kong nightlife can be very colorful - eating, shopping, clubbing and many more.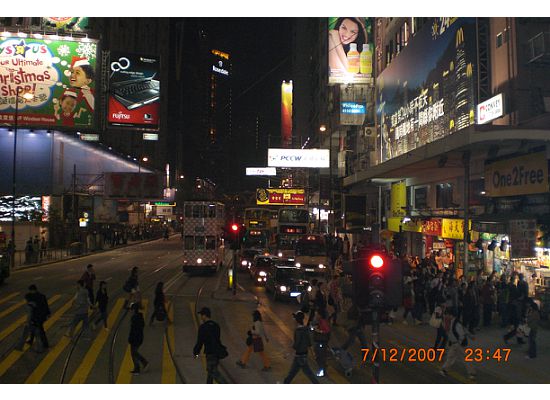 This picture was taken almost midnight. Look at how big the crowd is

As you may know by now that Hong Kong is a city never sleeps. Many stores, hawkers and restaurants open until after midnight. Some open 24 hours a day.

In my childhood, Hong Kong nightlife was more like to be checking out the gadgets from the hawkers or eating the Hong Kong street food (coming soon - link to Hong Kong Street Food) along the street.

I still remember my father always loved to drive us to Causeway Bay and park his car along the street. And we ate the beef meatball noodle bowl bought from a hawker. For many years, this same hawker was at the same location next to the President Theatre which is still here. It is just a block away from the World Trade Centre and the Excelsior Hong Kong.

This hawker had a cart with him carryiung a big soup pot to cook the noodles, meatballs and soup. The cart is no bigger than a regular size grocery shopping cart. They had several wooden stools for their customers to sit down.
As an adult, these stools were so small that they were more like a step for toddlers. It would be very uncomfortable to sit down and eat like that. But his customers really didn't care. The food was too good for them to stay away.
For us kids, there were a few small tables which were not much taller than the stools. But the height and size was just perfect for us.

You may not see many of these hawkers nowadays. Many of them have their own storefront which is just about 200 sq. ft.


Back then, Hong Kong nighlife was not as exciting as now. But, to us, it was a lot of fun already.

Now it is even better. You can go to many different kinds of restaurants to try out different great Hong Kong food, such as hot pot, dim sum, dessert and other Hong Kong local food.

If you are the happy-hour kind of person, there are many pubs, bars, karaokes and night clubs that you can check out. I have never been a happy-hour person. But I did go to many pubs and bars with my friends for gathering and watch live soccer matches.

Hong Kong nightlife does not mean that you have to go to bars or pubs. There are also many decent restaurants open after midnight. I used to do private tutoring. With the busy and tight schedule, I would not be available until after 10pm. I met my friends and/or families in some very nice restaurants in some great hotels for late dinner, like the one in Park Lane Hotel.

Are you a shopper? The Hong Kong Women's Market opens till midnight.

Don't like to walk too much? What about watching movies? There are different kinds of cinemas in Hong Kong to fulfill your requirements, such as mini-theatre (more like a cinema set up at home with the superb stereo equipment and comfortable couches), typical cinemas (which is very reasonable in price) and alternate cinemas (where they have European movies, not the mainstream one with great story lines and professional quality).
Return from Hong Kong Nightlife page to Main Living in Hong Kong page

Return to Facts About Hong Kong Homepage