Hong Kong University
Has the Longest History of All
Universities in Hong Kong
Hong Kong University (a.k.a. HKU) was the # 1 University in HK until Hong Kong University of Science and Technology took its place.


School badge of the HKU

I didn't move on to the university education right after graduating from high school. It was not until 5 years later that I started my continuing education in this university.
I met a few people there, two of them became my best friends. We studied together in the cafe and library all the time inside the university.
The old buildings of the university definitely show the legacy of the British colonial rule of Hong Kong. I remember standing outside of the hall and waiting to go in for the entrance exam. The feelings were nervous, solemn, classy and creepy. You know those feelings you sometimes get in old elegant buildings that have dim lighting.
Look at the picture below. It brought back to me all the memories. How many times I had walked up and down the hallway of this building.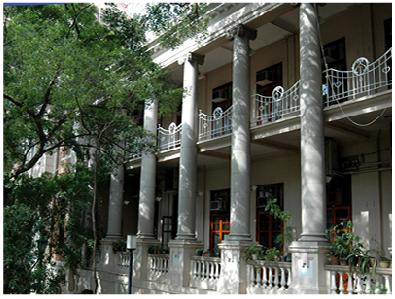 Dr. Sun Yat-sen, the founding father of both China and Taiwan, was also the graduate of this university.
Located at the mid level of the western district, it does not have the most convenient transportation. The campus was built along the slope of the hill. Remembering the good old days, I always took the MTR and changed to a bus. It always took at least an hour to get there.
Good thing was..we didn't need to climb up the hills all the time. But we always walked down the hill after school. If it's at night, I always made sure that someone was walking with me 'cos there were many ghost stories about this university.
There are campus buildings named after some people due to their donations, such as Li Ka Sing's wife, Chong Yuet Ming Amenities Centre.
Learn more about HKU.
Return from Hong Kong University page to Main Universities in Hong Kong page

Return to Facts About Hong Kong Homepage

---
If you like our site or this page, please click the "Like" button
on the right column to share it with your friends!
---