A Gift or Souvenior?
Hong Kong Seal Stone Shopping
Maybe The Way To Go
You may think about Hong Kong Seal Stone shopping after visiting the Hong Kong Seal Stone Museum. If you are interested in getting a personalized one, there are 3 great places to go. We will tell you the good and bad so that you can weigh which best fits you.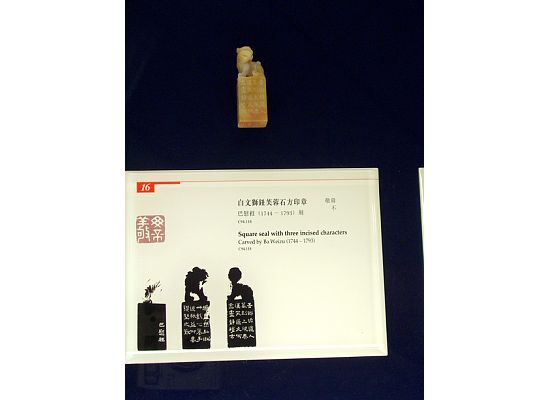 1) Sheung Wan - If you plan on taking a Hong Kong Tram tour and heading towards the way of Hong Kong Western Market or to Macau, you must pass by this street, Man Wa Lane(a.k.a. Chop Alley or Chop Street). It's right across from the Wing On Department Store, a domestic department store with long history.
That street is for pedestrians only. It looks like having many, many tiny booths in the street. These booths have been in business for years. My grandparents lived in an apartment building at the end of this street. Therefore, I am very familiar with it.
These booths print business cards and make personalized seal stones. You can pick your own stone and fonts. I bought business cards and seal stones 2 different times from 2 different booths/companies(whatever you want to call them). The quality, service and price were awesome. But you must allow at least 3 business days for them to complete the work.
I went to one of them for printing business cards. The guy mentioned that they could do mail order with a little bit of shipping and handling fee. I have never tried it. But I think if you explain your situation, some of them may able do it. If that is the case, cash in advance is a must.
The craftsmanship is authentic. It always comes in a package of a stone, with personalized name, a box with silk lining for storing the stone and a box of red ink (a special kind of ink used for seal stone only. It lasts forever.)
For westerners, you may need to translate your name first before they can personalize it for you. They don't provide translation service.
Check out my other site for Chinese name translation .


2) Stanley Market - I have never bought one from any of these stores before. So, I can't tell much about their quality. They do provide translation service.
You can choose the stone, but not the fonts. Usually, it is ready for pick up within an hour.
Since there are many stores in the same area providing the same service, we recommend that you shop around first.
3) Tsim Sha Tsui - There are not as many stores as in Sheung Wan or Stanley Market. But I did some Hong Kong seal stone shopping one time many years ago in a little store next to the Hong Kong Star Ferry Tsim Sha Tsui pier. This store sells traditional Chinese souveniors.
I bought a seal stone with Perry's Chinese name from this store. From a Chinese calligrapher point of view, it was good, but not the greatest. You can order and pick it up an hour later. It provides translation service which is included in the package. Its closest competition may be 20-minute walk away.
The price for a full package in either one of the above Hong Kong seal stone shopping places is around USD20-30 a piece. The stone itself costs the most.

The map below shows where those 3 Hong Kong seal stone shopping places are.
Return from Hong Kong Seal Stone Shopping page to Main Hong Kong Shopping page

Return to Facts About Hong Kong Homepage