Hong Kong Road Map
How to Connect
263 Islands Together

Hong Kong road map will show the different types of transportation and their routes. Hong Kong is 1,092 sq. km (about 421.6 sq miles) in size with a population of 8 million. Including the main island, there are 263 total islands. The Hong Kong road map below shows how all the tunnels and bridges (shown as yellow) connect most of them together. Here are a couple famous ones:

1) Cross Harbour Tunnel

2) Aberdeen Tunnel

3) Lion Rock Tunnel

4) Tsing Ma Bridge

5) Kap Shui Mun Bridge

6) Ting Kau Bridge(No. 4-6 are connected together)
For more details of all Hong Kong Tunnels and Bridges click here.

Before these transportation infrastructure, everyone had to rely on sea transportation.
Hong Kong people started out using "sanpans" to cross Victoria Harbour.
I remember my mom telling me that she used to walk from her apartment building in Wanchai to the dock to take a "sanpan" across the harbour to Kowloon to go to work. And a couple feet in front of the building, was freshly reclaimed land.
Check out our Map of Hong Kong page.

If she missed the Star Ferry, she would have to take a "sanpan" to go back home as well. Like the one in the picture below.
In some remote Hong Kong islands where there are no ferries or highway connected to them, people still use the "sanpan" as their main transportation means. They are mostly the elderly.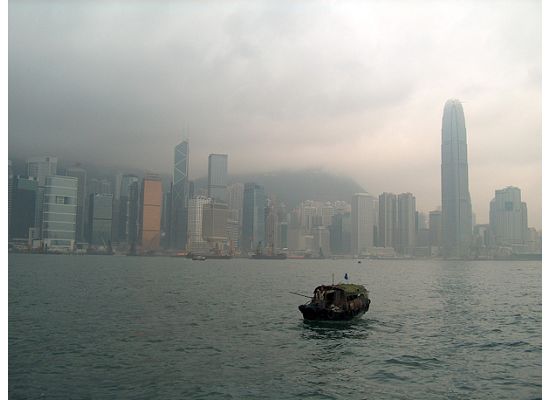 Hong Kong Sanpan
The Hong Kong Star Ferry is no longer the main transportation to cross the harbour. But it is the cheapest and I think the best of all. It is a great way to see both sides of the skylines, especially during the X'mas and Chinese New Year time at night.
One of my best friends, Elaine, always loves to take a boat ride to relax after work or during the weekend.
The most expensive fare for a trip is only HKD2.50 (about US$0.32). And is in the picture below.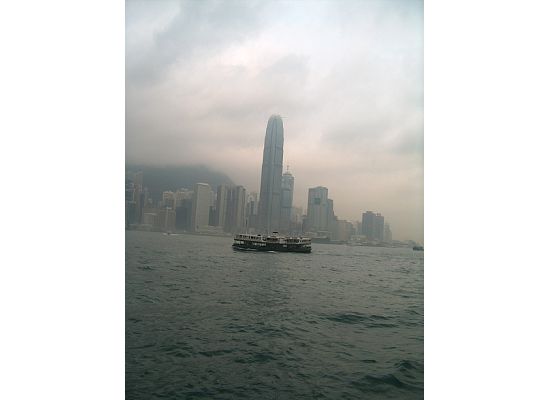 Hong Kong Star Ferry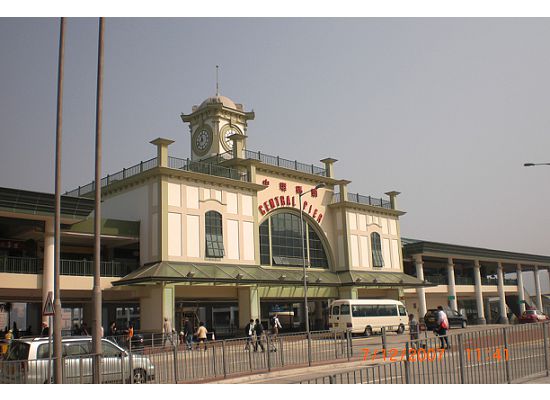 The new Central Hong Kong Star Ferry Pier
Other than tunnels, bridges and ferries, the MTR (HK subway), train and buses can get you through Hong Kong conveniently. Check out our Hong Kong Street Map page.
If you are traveling to Hong Kong we highly recommend the Hong Kong Insight Fleximap (Fleximaps)(check out the reviews of this product on Amazon)
When my grandfather, a guy knew nothing about English, traveled to the States all by himself to visit his children, he always brought a set of Chinese-English kids flash cards with pictures in order to help him to communicate. Like when he wanted to have a cup of coffee, he could show a flash card to a wait staff. Recently, I found this set of flash cards, Learn Chinese - Flash Cards for Beginners, are very helpful for people like my husband, Perry, to get around the island. It has most of the basic words that you need in the trip.
Return from Hong Kong road map page to Main Hong Kong Map page

Return to Facts About Hong Kong Homepage