Hong Kong Portuguese Restaurant Food
Heavily Influenced by the Macau-Portuguese Culture
Hong Kong Portuguese Restaurant Food may not be served as it was before.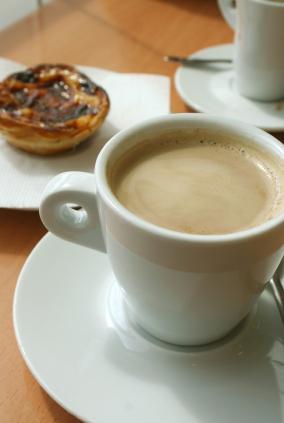 Pasteis de nata (a traditional Portuguese egg tart)
I remember when I was a teenager, our parents brought us to a Portuguese restaurant in Wanchai, Hong Kong. They served awesome Portuguese dishes, especially seafood. We have gone back there a few times after growing up, but I am not sure if it is still there.
Nowadays, this kind of cuisine is mostly served by Macau restaurants. They are like the chain restaurants. It looks like the mom-and-pop restaurant. Since Macau was a Portuguese colony. They serve Portuguese fusion dishes. It's mixed with Hong Kong, Chinese and Portuguese food culture. The look of this restaurant chain is very easy to recognize. The banner and logo on the store front is white and sky blue.
The 2 most popular Hong Kong Portuguese Restaurant Foods are the pork chop sandwich in Portuguese roll and Pasteis de nata (a traditional Portuguese egg tart).
The pork chop in the sandwich is pounded super thin and fried to be crispy and served in a crusty Portuguese roll. My mom is a BIG fan of this sandwich.

There is a Hong Kong style custard tart which has been around for years. But the Macau-Portuguese one is browned on the top of the custard with a slight smoky flavor. It is also available in Hong Kong KFC and some bakeries (coming soon - link to Hong Kong Baking Food page)
In some Hong Kong Cantonese restaurants, you may find some Portuguese dishes, especially the chicken and rice in Portuguese sauce. There was a time that it was a big hit in Hong Kong.
One of the biggest Chinese condiment manufacturers launched this Portuguese chicken sauce which allows people to cook and serve this dish at home. Thanks to the Internet. You sometimes may be able to buy it online.
Of course, to try the authentic Portuguese food, you can make a quick trip to Macau.
Check out my other websites, EZ-DinnerIdeas.com for more simple recipes inspired by the Hong Kong restaurant food.
Return from Hong Kong Portuguese Restaurant Food page to Main Hong Kong Food page

Return to Facts About Hong Kong Homepage